How I Found the Way to Japan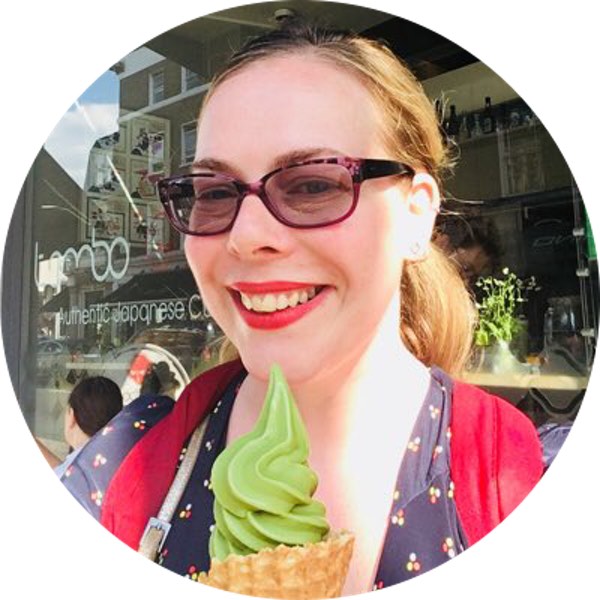 Konnichiwa! I'm Vanessa, and I created JapaneseLondon.com (waaay back in 2010) to share Japan joy far & wide!
I know that if you develop a deep appreciation for the Japanese ways of thinking, speaking and doing things, you can fill your life with friendship, gratitude & connection every day.
It's been over 20 years for me, and I still love learning Japanese language & culture! Will you join us, and see where your Japan journey takes you? よろしく おねがいします。
What if Japan is a Journey, not a Destination?
"If you ever have the chance to go to Japan – GO!" declared my father, with uncharacteristic enthusiasm.
I was fifteen years old, bemused to see my workaholic father all lit up like Akihabara electronic district on a Saturday night by his recent business trip to Japan.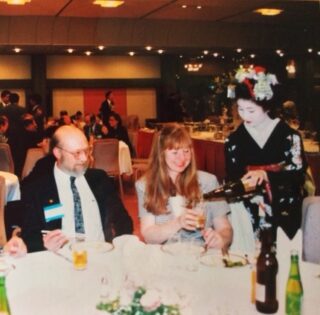 My parents had brought back cool souvenirs – cotton robes called yukatas; strangely appealing 'coffee' flavoured gum; a hand-carved Hokkaido bear. I was fascinated – and immediately hooked!
After university, I was lucky enough to be accepted onto the JET Programme. So off I jetted on a 747 jumbo, speaking barely a word of Japanese… with absolutely no idea what I was getting myself into…
At my new apartment In Tochigi (smack bang between a rice field and a Shinto shrine) I found watermelon ice lollies pre-stocked in my freezer, peach-scented shampoo already in the shower, and a toweling summer blanket laid thoughtfully on the bed. I was incredibly touched by the warm welcome of my hosts.
This was in the pre-smart phone era. I didn't even own a laptop. I had my address written on a scrap of paper, just in case I got lost when I ventured out! Absolutely immersed in Japanese language and culture, I soaked it up like a parched sponge.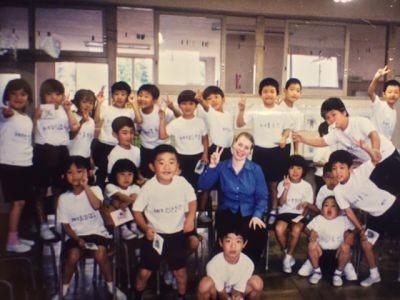 On weekly international phone calls, I shared with my parents 'amusing' anecdotes about the major and minor faux pas I'd committed, new difficult-to-identify foods I'd tried, and I desperately strived to find the words to convey what I had learned about Japanese ways of appreciation, attention to detail, and their connection to others.
My dad had left the 'rat-race' by this time, but had slipped further into serious depression. I had became acutely aware that Japan seemed to offer different ways of thinking, speaking and doing things that might just 'fix' him. If only he could access these 'ways'. I felt so powerless against his gloom, yet he was the reason I'd been inspired to travel to Japan.
Although my dad was happy that I was happy, I found there was nothing I could say that could light him up. I realised that I had found my way to Japan not to 'fix' my dad – but to 'fix' myself instead.
That is, I found that the Japanese ways of thinking, speaking and doing things gave me THE TOOLS I NEEDED to live life in a way that makes my heart sing.
I Thought My Love Affair With Japan Was Over
Craning my neck, I caught a last peek of my Japanese friends and colleagues, waving goodbye from the station platform. My eyes stung as the train pulled away. 3 years later, I was Narita bound. I thought my love affair with Japan was over.
But back in the UK, I was madly keen to make sense of my Japan experience and keep a tight hold of it! There was a lot of I didn't want to forget. I got the Rosetta Stone language study programme, kanji flash cards and a scary pile of Japanese textbooks.
However, I just couldn't find the right Japanese language lessons in London, at the perfect level for me, at the ideal time of day & a convenient location. Many group lessons were aimed at complete beginners, and others were all textbook based. Some focused exclusively on JLPT exam prep, or passing Japanese GCSEs or 'A' levels. This wasn't what I was looking for…
I worried about wasting time and money on group lessons that didn't give me much chance to properly communicate with the only Japanese native speaker in the room – the teacher.
I felt lost. I wondered about just giving it up.
It was all a bit of a strain. Until I realised something deceptively simple : I didn't want to JUST LEARN Japanese – I wanted to actually LIVE IT! I chose to live in London, but I was choosing NOT to leave Japan behind.
That's when I started JapaneseLondon.com.
My Mission is to Help You Enjoy Your Japan Journey
Wherever you are on your Japanese learning journey, we have a Japanese tutor who can guide you, and signpost your route. 👩🏻‍🏫 🔜
The words you learn should be linked to communicating vividly in the real world around you, and the grammar you learn should help you to express yourself, sharing who you are, what you do & what you like with others. It needs to be fun and interesting!
I've been privileged to work with hundreds of learners and tutors to create fruitful and fulfilling learning connections. Read what our lovely students say about us here.
That's why JapaneseLondon.com offers:
Private 1-1 JAPANESE TUTORS for Adults & Children, Online & Offline
JAPAN LIVING GUIDES: How to Learn & Live Japanese & a Free Playbook
'the Way to Japan' PODCAST, Newsletter & Instagram ♡
JapaneseLondon.com puts YOUR SPEAKING firmly at the centre of your Japanese learning journey. Where are YOU heading? You need to enjoy the trip.
I'm looking forward to hearing more about you! 👆 Click the button – let's chat today.