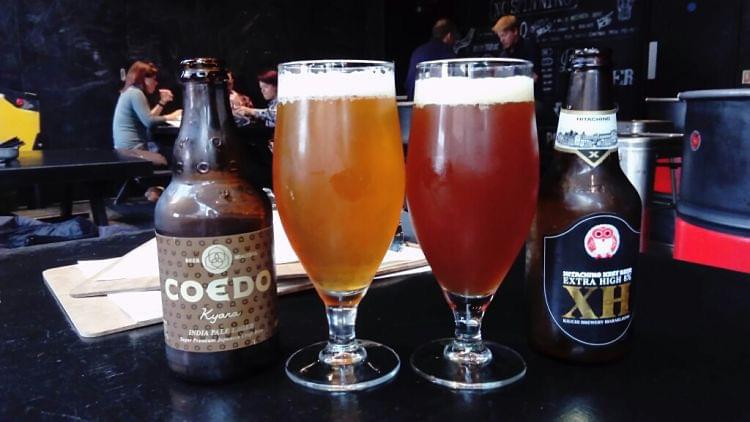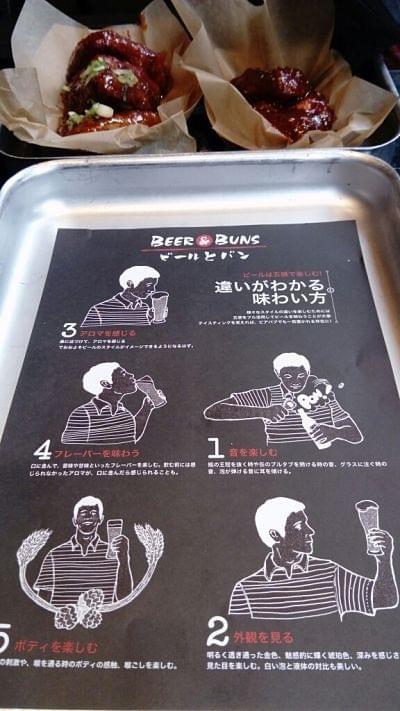 First Impressions: Trekking up the lengthy staircase to the Japan-inspired izakaya 'Beer & Buns' it feels like we are sneaking off somewhere a little bit naughty – somewhere to skive off and hide!
Let them eat sushi at K10 (v. popular takeaway and kaiten zushi spot near Liverpool Street station) – for today we are off up the stairs on a serious adventure!
Ambience: At the top of the stairs the venue opens up into a surprisingly spacious and bright area, decked out with funky Asahi prints over the black paint. It feels cool & playful without trying too hard.
The free table football and pinball machines indicate many an hour could be whiled away happily, tucked cosily away, listening to damn good rock music, and quaffing the UK's largest selection of Japanese craft beers.
Clientele: During the Friday lunchtime rush the place got surprisingly busy with groups of work friends. A great place for a bit of laid-back team bonding! I was there with my husband on a sneaky afternoon date and, equally, we felt comfortable just as a couple.
Description of food and drink: Beer & Buns was founded out of 'frustration of not being able to find a decent bar that provides great beer AND authentic food'. Good point, well made. Japanese restaurants have a tendency to only offer a can of Asahi or Kirin; whereas pubs might offer the wider selection of beers BUT the grub is not always up to scratch. Ok, so let's get stuck in to both…
The drinks menu is considerably longer than the food menu – always an encouraging sign. A short & sweet food menu sets up the joyful anticipation that a few items will be done very well. But what to pick from the drinks menu? As well as beers, a signature G&T, cocktails, whiskies and wine are offered. Nevertheless, it's Japanese craft beers we are after, and by golly, do we ever have some choice!
The beers are all described lovingly and thoroughly, with mouth-watering tasting notes on the menu. First, we tried a Coedo 'Kyara' (a malty, caramelly premium Indian Paler lager) and a Hitachino 'Nest Extra High XH' (sweet, strong Belgian Brown). It was a treat to sip these slowly, trying to unravel the layers of flavours.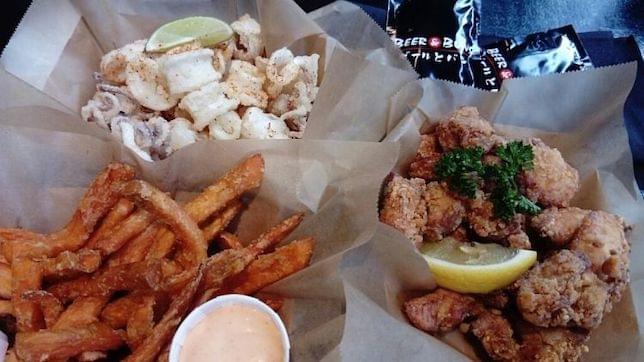 Our starters were salt & pepper chilli squid, sweet potato fries w/ spicy mayo and chicken karaage. I highly recommend this particular combination actually – each one was expertly fried to a crispy perfection. By this I mean that you could really cleanly savour the ingredients, without being distracted by the oily taste and scent that can sometimes pervade fried food.
We ordered 4 of the popular, signature 'hirata' buns, cut in half so we could each share them. My favourite was the Chashu Pork Belly w/ braised red cabbage & mustard – the soft meat was complemented with a piquant crunch.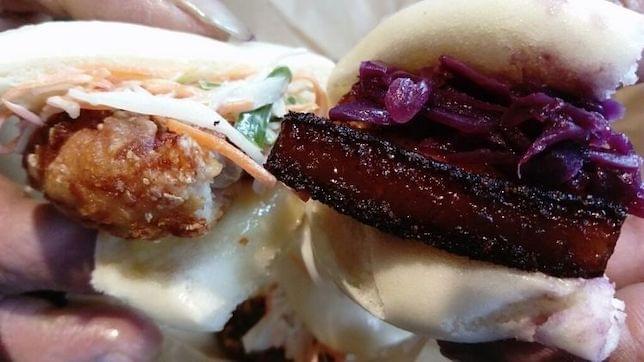 Beer & Buns' Jumbo Korean-style, intensely crunchy, sauce-drenched chicken wings were the best damn chicken wings I've ever had! Seriously! This is a commendation I would not dispense lightly, being of Canadian origin, and I informed Frank, the manager of this incredible fact. And they are MASSIVE!
The triple fried wings (thrice as nice!) are available in Tebasake Soy Garlic, Sweet & Spicy, Korean Hot and, well, 'Naked'. We tried one each of all the four flavours and, I can seriously tell you that they are AWESOME.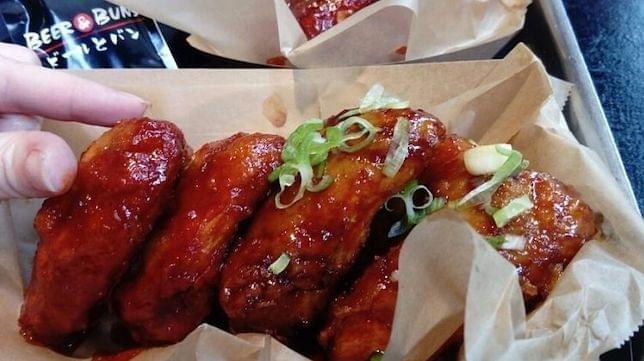 Service: The manager, Frank, was so friendly and accommodating – it's clear that he has a real pride in the food served and this ethos of quality resonates around the place.
Prices: Buns are £3.95 each or two for £7.50. Wings are £4.50 for two/£7.95 for four/£9.95 for six.
Beers are fine, craft beers, imported. The prices reflect that. These are beers to truly savour.
Come again? I'd love to come again for the wings. I've been fantasising about them!
Hours: Mon – Fri, 5pm till late. Thurs – Fri, lunch.
Beer & Buns
'Upstairs at K10', 3 Appold St, London EC2A 2AF
Mob: (+44) 7724 548 859
Twitter/Instagram: @Beer_And_Buns
Facebook: Beer&Buns UK