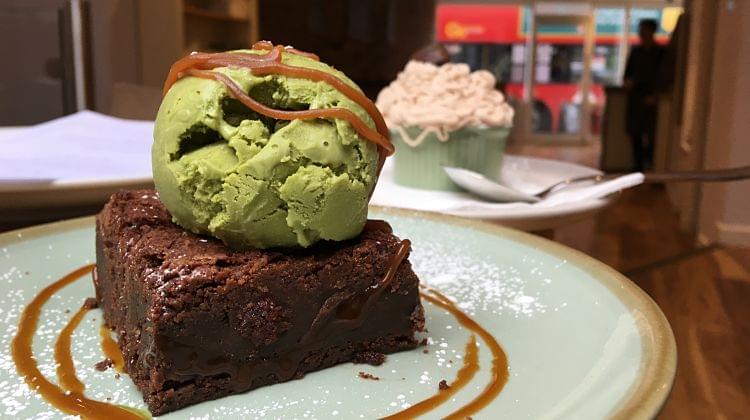 Bistro Mirey offers fabulous, unpretentious French food, each dish with a soupçon of distinctive Japanese-flavoured inspiration.
What's not to love about this outstanding little neighbourhood bistro that's the realisation of the dreams of two splendid, hard-working people? Eat thoughtful, well-prepared dishes and show your support for Chefs Gerard Mirey and Ko Ito – so much better than visiting another faceless chain?
Fellow foodies, from very different backgrounds, Gerard and Ko met ten years ago in Wales. Enthused about the possibilities of fusion flavours, they said: 'let's open a restaurant together one day!'. And do you know what? They did: this fantastic French-Japanese bistro in South West London.
When & Why? For a Friday lunch treat with Tito and baby Taiga. They have baby chairs (three, in fact) and made us feel very welcome as a family. Bistro Mirey is open for lunch & dinner everyday (closed Mondays) & also for brunch on weekends.
First Impressions: Outside, it's clear from the signage that they want you to notice the restaurant and COME IN! Slightly off the beaten track, yet easy to reach (from West Brompton or Fulham Broadway) the Bistro really stands out. As you enter, it feels cosy, yet with a skylight at the back opens up the space; it is airy and pleasant.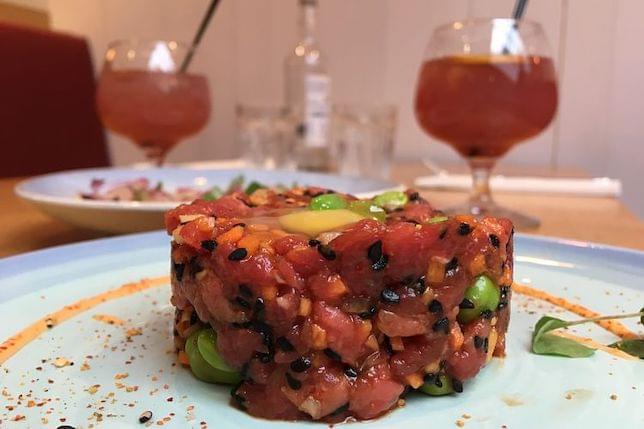 What we ate: We loved the starter 'Steak tartare, edamame, black sesame and quail egg', as well as the super kawaii sign detailing just how tartare and soy met. Fresh and slightly complex flavours melt in your mouth. The 'Sea Bass Carpaccio, ginger & yuzu mayonnaise, roasted sesame seeds' was an elegant pairing with thinly sliced radish.
'Braised Ox cheek in red wine, fresh wasabi mash potato' was a very satisfying and hearty dish, with lamb's lettuce to lighten it up. The wasabi mash was very mild – being from grated real wasabi root (not a bright green tube!).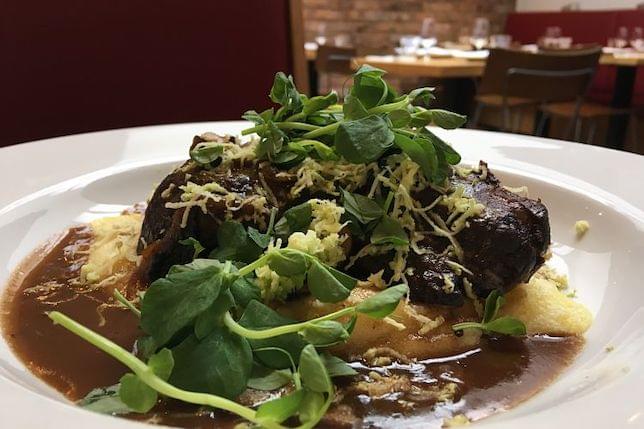 I had the special 'Matcha-cured Lamb with ratatouille and crispy kale' – the lamb was fatty and charred and heavenly and I really disliked sharing it with my dear husband.
I cannot believe that I have lived my whole life without eating a Mont Blanc dessert. For some reason, the resemblance to a mountain of cold spaghetti has always been too daunting. So glad I finally scaled my first Mont Blanc at Bistro Mirey, the preserved chestnut and whipped cream concoction floated on a heavenly light cloud of cake. Loved it.
Tito simply can't resist chocolate, and thus went with the down-to-earth offering of a brownie. It was perfectly paired with the slight bitterness of homemade matcha ice-cream.
What we drank: We couldn't resist a cocktail called 'The Londoner' made with sake from London's very own craft sake distillery, Kanpai. It was zesty and extremely quaffable!
Bistro Mirey is also stocking the increasingly popular Japanese craft beer, Coedo, which is Belgian-beer-inspired.
This sincere friendship is one to get behind and support – get in quick before the restaurant gets too busy – with great reviews all over the place, this Bistro surely won't be quiet for long.
Service: Sincere and approachable – reflecting the whole friendly, earnest ethos of the place.
Prices: With starters between £6 – £9, and mains ranging from £10 – £16, Bistro Mirey is affordable enough to visit for any occasion. There is also a separate brunch menu for weekends.
Come again? Absolutely. We've had the lunch, now we want the brunch.
98 Lillie Road, Fulham, London, SW6 7SR
Tel 020 3092 6969