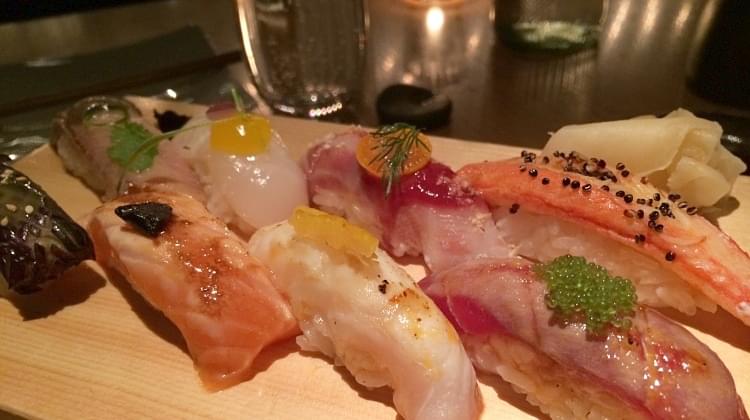 Why? Chotto Matte ('just a minute' in Japanese) is a zingy, zesty newcomer to Frith Street, Soho. Opened by ex-head of Nobu (and founder of Ping Pong) Kurt Zdesar during fashion week last summer, this restaurant serves bold, fresh and invigorating 'Nikkei' fusion cuisine. It's heavy on the South American, with a tempering dose of delicate Japanese.
London has recently welcomed more Japanese and Peruvian restaurants than you can shake a stick at – but try this fab natural fusion for a powerful Peruvian punch! Having met my Peruvian husband in Japan, Nikkei cuisine means a lot to me, and I was thrilled to be invited in for a meal by Chotto Matte.
When? A Friday night in April at 8.30pm. The reception was so packed with people queuing to get in the place that I (embarrassingly) tried to arrive for our reservation at the DJ booth. Avoid this rookie error.
First Impression: Big. Cool. Big, cool retractable glass doors onto Frith Street were retracted. The downstairs cocktail bar and sushi bar were buzzing.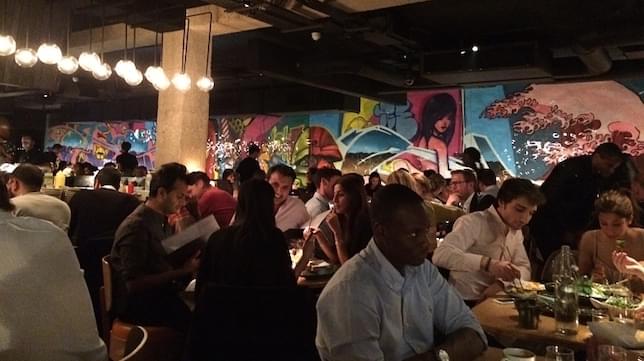 Ambience: There are massive graffiti murals on the walls. This speaks volumes. Yet, somehow Chotto Matte manages to carry this off with a breezy not-trying-too-hard, 'urban' feel.
The music in the upstairs restaurant wasn't too loud and the tables were candlelit. Have a civilised date upstairs then drink 'til the wee hours downstairs.
Clientele: Young and fashionable, but not humiliatingly so. This is a restaurant for those with an adventurous palette; and happily for me, people who have travelled enough to really dig these bold flavours are usually not straight out of nappies.
Description of food and drink: We started with a Pisco Sour, a Peruvian cocktail that wasn't actually on the menu. Whipped up using Pisco (a Peruvian grape brandy), lemon / lime (Limón in Peru) and egg white, Peru's national drink is akin to an alcoholic lemon meringue. It was very good, if a little bit sweet. I've had better – but perhaps only in the Hotel Bolivar in Lima which claims to have invented the drink. The cocktails arrived with canchas, along with cassava and sweet potato chips.
The general manager, Sam, carefully explained each dish to us. The first was Tito's favourite of the whole meal: a succulent lobster ceviche. A simple dish, the sweetness of the lobster shone through. Bold citrus flavours continued with (according to Sam) a dish voted 'London's sexiest salad': the 'Paperthin Vegetables' were a combination daikon, butternut squash, beetroot with quinoa, physalis and lime.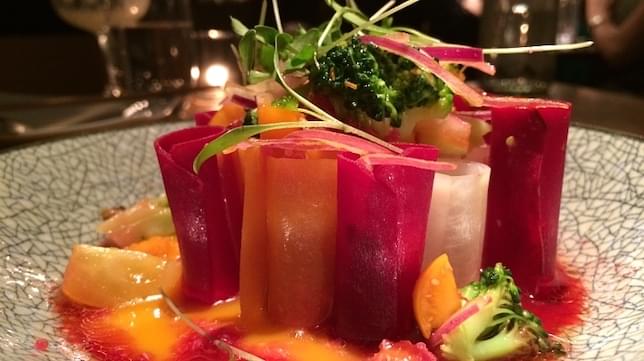 Knowing that the executive chef, Jordan Sclare, is also ex-Nobu, I ordered Nobu's signature dish, black cod in miso: 'Bacalao Negro Aji Miso'. Paired with vegetable tempura fritters, this dish was near perfect. The cod was the most exquisite, melt-in-your-mouth I'd ever had.
We returned to big, gutsy flavours of a different kind with the 'anticucheria' – barbecue which are prepared a 'traditional Peruvian marinade of aji panca and aji amarillo' non the robata grill in the middle of the room. I can safely vouch for its authenticity – the mouth-watering scent practically brought tears to my eyes, so familiar it was. Both 'Tentaculos de pulpo' (octopus) and 'Ojo de costilla' (beef rib eye) were superb. Paired with a purple potato puree, these smoky dishes were my favourite.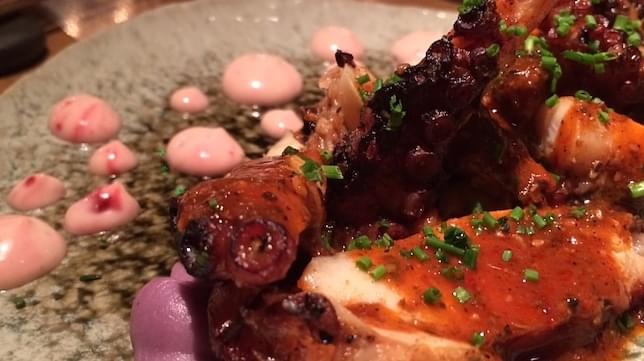 Listed as 'Anti-Depressants' the cocktails were fun combos based mostly around sake and Pisco. For example, we enjoyed a 'Moshi Moshi Madre' ('Hi Mum!) with gin, sake, elderflower liqueur and lemon.
We finished off with a beautifully presented selection of sushi, each with their own Peruvian detail; such as a delicate sprinkle of crunchy quinoa, or a lick of garlic butter.  As an interesting aside, Chotto Matte believes (as is the current trend) that we should step away from the soy sauce. Japanese need not be so salty. They recommend their sashimi and sushi be eaten without, or if you must, they serve soy sauce with dashi.
One of the only dishes that struck the wrong note with us was the teeny weeny, itsy bitsy dessert plate. Consisting of macaroons and other sweet morsels, they were about the size of Tito's thumbnail and simply too small to taste. The 'Pineapple toban yaki' was a chicha morada crumble with vanilla ice cream, which was substantial, and far better.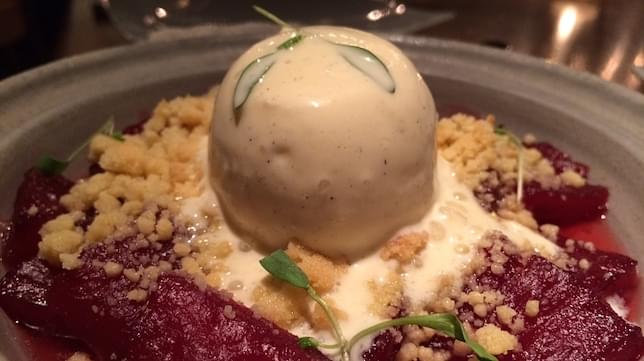 Service: Great. I recommend really asking your server to help you, as the menu is long and slightly ponderous. Plus the two cuisines need some careful pairing to maximise their potential  – we felt our meal had a fantastic progression of flavours, from citrus, to smoky, to salty, to sweet.
Toilets: A massive UV illuminated mural by Tokyo-based artist Houxo Que. The individual cubicles have heavy doors and it's hard to see if they are occupied. They usually aren't, so push harder.
Prices: I always think it's worth paying a little more for something really memorable, and Chotto Matte offers flavours to savour  plus an experience to remember. Cocktails are around £10, and the food is served in small, tapas style combinations from £3 – £20 per portion. Try the affordable tasting menus at £40 – £45 per head to find out if Nikkei is your thing.
Come again? Dios, madre mio, a thousand times HAI!
Chotto Matte https://chotto-matte.com/
11-13 Frith Street
Soho, London
W1D 4RD
Tel 0207 042 7171