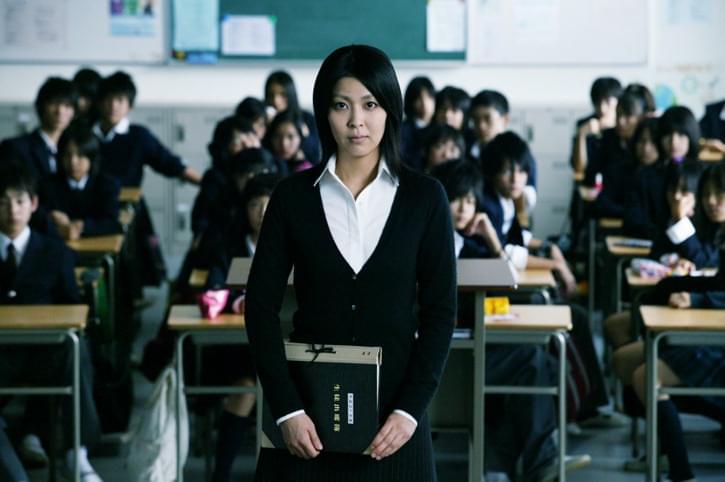 Confessions – Directed by Tetsuya Nakashima, 2010. Japan's Official Entry for the 2011 Academy Awards.
If you think that a teacher revengefully lacing students' milk with her late former lover's HIV-positive blood is as macabre and horrific as it gets, the final scenes of Confessions will have you hooked and gripped to your seat in uneasy disbelief.
The film, based on a novel by Kanae Minato, starts off by stylishly zooming into a class of photogenic Japanese middle school students sipping cartoned milk. If it weren't for the fact that it's a rowdy class with students listening to music, texting, chatting, yawning and walking around it could be the perfect advertisement promoting the benefits of milk. The stereotypical image of all Japanese school classes being a model of rectitude is soon put to rest.
Takako Matsu, an actress much in vogue at the moment having won acclaim for her roles in the 2009 film Villon's Wife and the 2004 film The Hidden Blade, is cast as the attractive young teacher and single mother, Yuko Moriguchi, bidding farewell to her class of thirteen year olds. It is the end of the school year and she announces that she won't be coming back, much to the delight of most of her unsympathetic class.
The students pipe down when Ms Moriguchi reveals that the death of her little girl, Manami, was not an accidental case of drowning; she was, in fact, killed by two of Ms Moriguchi's students who, being minors, won't face justice. In this, the first of the film's five confessions, she refers to the killers as Boys A and B; the first, a prodigy by all accounts and the second, a bit of a no-hoper. Having separately spoken with the boys about the death of her little girl, she realises that A is desperate for recognition and that B was lured into helping him, hoping to make a firm friend. The tainted blood is her way of wreaking her revenge on the boys who, protected by the Juvenile Criminal Code, won't be tried.
The scenes that follow this dramatic introduction consist of the remaining 'confessions' – those by the killers, by Mizuki – Boy A's girlfriend of sorts – and by Boy B's mother. These declarations, albeit grim, are perfectly straightforward and devoid of Rashomon-style ambiguities and mistruths.
It is here that the film falls victim to every cliché to do with psychopaths hell-bent on viciously decimating vulnerable children, school or university companions and in so doing distils as many stories of young alienated murderers as possible evoking memories of the Columbine High School massacre of 1999 and the Virginia Tech massacres of 2007 and 2009 to name a few. Gruesome and difficult viewing at times, it might be just the thing for a nihilistic teen!
Whereas Naoki, Boy B, falls into meltdown and stops attending class, Shuya, Boy A, is able to face the bullying he is subjected to at school and becomes friendly with his classmate Mizuki, a somewhat suicidal misfit. Mizuki seems the one redeeming character in the film, a thoughtful observer who sends letters to Ms Moriguchi, keeping her abreast of developments at school, and comes to comprehend Shuya and the demons and loneliness that have been driving his attention-grabbing exploits. While she feels sorry for Shuya, I felt singularly indifferent to all characters, except at a push, the empathetic Mizuki.
Outwardly appearing a reformed character, Shuya wins a competition for his essay on the importance of life and reads it to his schoolmates during an assembly; in these closing scenes Yuko Moriguchi makes a return, thwarting Shuya's final cataclysmic gambit. All is unravelled in a thrilling complex twist.
All in all Confessions is a cleverly crafted film with some fine performances and atmospheric soundtrack; gory throughout, it is not to be watched by the faint-hearted.
On a final aside, while dispelling the fiction of orderly Japanese students, the film, in introducing the subject of AIDS, seemingly cannot conceive of the virus having been contracted in Japan and refers to Dr Sakuramiya, Ms Moriguchi's former lover, as having become HIV-positive from dalliances abroad. One step forward in referring to AIDS but a few steps back for thinking it can't be home-grown.
See Third Window Films website here.
Review kindly contributed by Susan Meehan