This month, Life After JET profiles former Tochigi ALT, Vanessa Villalobos. After completing JET and obtaining a CELTA qualification, Vanessa moved to Peru where she taught for 15 months. She then returned to the UK to train as a secondary school level English teacher at King's College London, earning a Postgraduate Certificate of Education. However, instead of starting a more conventional career in education, she started her own business. She "now works to connect the UK and Japan in London with her two companies –
IsshoniLondon.co.uk
, which provides tutoring services, and JapaneseLondon.com, which is a central hub for all Japan-related happenings in London." In addition, she is involved in JETAA London, serving as the Communications Officer and organiser of the Creative Entrepreneurs' Group.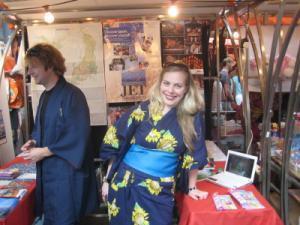 Vanessa shared with us a little bit about her experience on JET and since, plus advice for budding bloggers, entrepreneurs, or any JET trying to figure out what comes next…
NAJET
: First, can you tell me a little bit about your experience on the JET Programme? It looks like you were an ALT in Tochigi from 2000-2003 — Any highlights or projects that you're really proud of?
Vanessa
: Being a 'one-shot' ALT meant that I had quite an exhilarating life; cycling around Tochigi-shi with my bike baskets over-brimming with games, flashcards, worksheets, etc.  I was based in the BOE along with two other ALT colleagues. We took it in turn to visit all the junior high schools and elementary schools in the area. Like so many ALTs I found elementary school teaching an absolute delight – if absolutely exhausting! In the BOE, we also designed the English curriculum and materials for 15 elementary schools. It was so satisfying to be responsible for the syllabus right from first ideas to classroom delivery.
NAJET
: Before becoming an ALT, did you know that you'd still be working with Japanese/UK relations even years after leaving JET? No! But I have always been fascinated by communication, language, and international relations so I am thrilled that JET gave me chance to develop my skills and interest.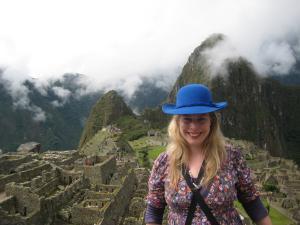 NAJET
: Why did you first decide to start your blog, Isshoni London? I experimented with blogging in Japan, and then wrote a successful year-long travelogue in Peru, but after coming back to the UK in 2005 I felt at a bit of a loss and stopped writing.  I still really missed Japan and started to look for Japan-related things, events and communities in London. Much to my excitement, I found a wide range of information and opportunities. Even so, I kept missing out on things because that information was so spread out. I searched on the internet, collected little snippets from newspapers and magazines, grabbed brochures, scribbled down info from tube posters, and realised the gap in the market for a 'one-stop-shop' website where you could go to find out everything about Japan-related stuff in London. 'Isshoni London' is the name of my English-Japanese language tutoring company, and the blog was attached to it to provide extra information.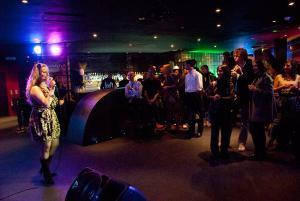 NAJET
: How did it grow into your current website, JapaneseLondon.com? And what are your goals for the website? The blog was an absolutely brilliant platform for networking and attracted plenty of visitors even though I didn't really advertise it. However, I wanted increased functionality and interactive elements on the site (such as a calendar, forum, photo gallery, and links library) so I choose to expand the information into a website. JapaneseLondon.com's mission is to be the central hub for all Japan-related happenings, people & places in London. It's the first and only English-language website of this kind. Most people's reactions to it have been 'Why didn't this exist already?' which I think is a good sign! The site had a launch party at Karaoke Box in Smithfield in late November which was a great success. At this stage I am remaining flexible as to how JapaneseLondon.com can develop in the future; whilst working on ideas such as an e-book, guides, events etc.
NAJET
: Do you have any advice for someone who wants to start/grow their own blog or website? First, you need to decide on something that you really, really love. Second, take action and become an expert in that field. Third, refine your ideas/approach/vision. The problem is that knowing what you really love is so difficult that many people never take the vital second step.  If you love lots of things, pick one of them. If that doesn't work out, pick another. A 'ready, fire, aim' approach is what's needed, don't be afraid to make mistakes: that's when you learn the most.
NAJET
: You're also involved with JETAAUK. Why would you recommend JETAA to recently returned JETs? So many reasons. Mostly, networking and friendship. We hold many practical, useful events such as the Careers Information Day in London in September every year, regular business networking events sponsored by large companies interested in recruiting ex-JETs such as Bloomberg and Accenture. I have also just formed a JETAA Creative Entrepreneur Group. We also have events such as pub nights, restaurant nights, trips to the theatre, picnics and walks. I am responsible for JETAA London communications and I think receiving the twice-monthly newsletter about Japan-related or JETAA events is a good idea for any ex-JET.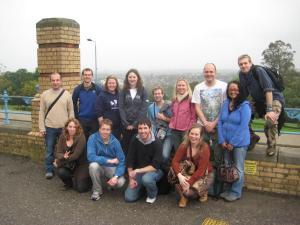 NAJET
: What kind of role would you like to see your JETAA group for entrepreneurial ex-JETs fill? Really, it's silly that this has not been done before. Ex-JETs are not only perfectly placed to work for a Japanese company, but also to deal with Japanese business in general. In fact I believe that the qualities of ex-JETs make them particularly suitable to venture into entrepreneurship. I feel strongly about working to connect UK and Japanese creative entrepreneurs based in London and I am currently working on behalf of JETAA London with the Japan Europe Entrepreneurs Forum to encourage the two communities to share experience, knowledge and contacts! We will also be working with the Japan Society to set up some kind of business mentor programme for outstanding ex-JETs; connecting them with someone who is a leader in their field for advice and support.
NAJET
: Finally, any last advice for current JETs who are trying to figure out what to do next? Why not try keeping a 'play book'? An idea from London-based entrepreneur John William's '
Screw Work, Let's Play
'; he suggests that you choose a nicely designed blank (unlined) book, and carry it everywhere with you. John says: "Write down everything you discover – what you like, what you don't like, people whose work or lifestyle you'd like to emulate, ideas for contacts to talk to, projects to try." I think JET is an excellent opportunity to really get to know yourself, away from family and old friends who might influence your thinking. Enjoy it and good luck!