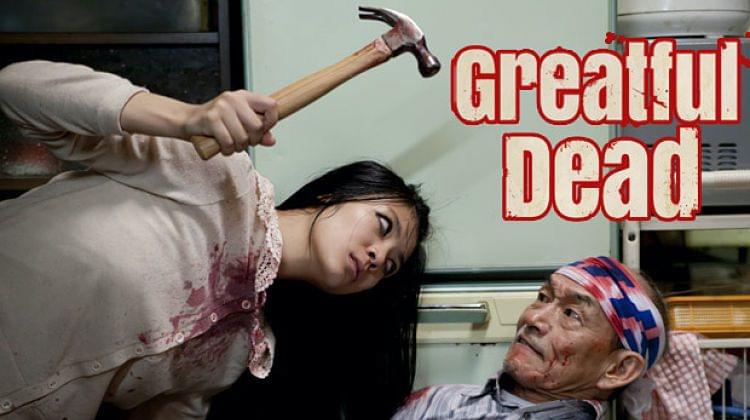 グレイトフルデッド, 2013 / 98 minutes / Director: Eiji Uchida / Writers: Etsuro Hiratani, Eiji Uchida
Starring Kumi Takiuchi, Takashi Sasano, Kim Kkobbi
Available from Third Window Films on DVD and Blu-Ray now, Greatful Dead is a Japanese American Pyscho for the Abenomics age.
Imagine walking into the house of someone you've been secretly eyeballing for some time, only to find them lying them face down on the floor, surrounded by empty cups of instant ramen, boxes of erectile dysfunction pills and discarded porn magazines. When you roll them over, they are dead, with a noticeable bulge in their trousers. Before you call the police, you take a selfie with their corpse.
Dark, shocking and delightfully demented, Greatful Dead (yes, that is the correct spelling) may not be for everyone. Nonetheless, this witty, sick and humorous horror film certainly deserves a wider audience.
Greatful Dead tells the story of Nami (brilliantly played by Kumi Takiuchi), a young woman with a dysfunctional childhood – abandoned by her mother who goes off to Africa to do charity work and never returns, ignored by her depressed father who takes up with a mistress called Atsuko with whom he often disappears to the "secret room", and left behind by her high school student sister who runs off to live with her boyfriend.
After inheriting a small fortune, Nami is able to give her life to pursuing her interests which include yoga, cooking steak, drinking red wine from the bottle and spying on those who she calls "solitarians" – people who, like Nami, have gone crazy from loneliness.
Fixating on one old gentleman (played by noted Japanese actor Takashi Sasano) after she catches him watching porn DVDs, Nami soon transitions from voyeur to full-fledged stalker. Nami becomes increasingly entangled in his life, before beginning her descent into complete madness, culminating in a brilliant and vivid finale.
Takiuchi plays Nami with wide-eyed wonder, her facial expressions contorting from disgust to lust to white-hot fury with ease. There are also great moments of slapstick humour – the aforementioned selfie; Nami's niece hitting her with a pillow as she stares dead-eyed; Nami spitting her milk everywhere as she realises that (thanks to the help of a couple of friendly neighbourhood Christians) her old gentlemen is turning to religion.
Triggering memories from Nami's childhood, the focus on religion gives this film an extra dimension, as does its biting satire on Japan's consumerist culture and post post-bubble slump – who could resist a rice cooker for ¥34,000 when you can exchange your previous one for ¥10,000. As a child, Nami orders endless appliances from the shopping channel, a fact that proves to be crucial as the plot twists and turns to its conclusion.
Review by Robert Van Egghen