Down a flight of steep stairs on Brick Lane, a typical multi-cultural London crowd milled around in Bodhi's intimate gallery space.
They had braved the dark, drizzly October evening to check out something a little bit different: the Private View of Hafu / Half Japanese photographic exhibition.
Contemplating the large, clear photos of half Japanese, reading their candid profiles and sipping vivid green Midori cocktails people eyed each other curiously – are they a 'hafu'? Are they not? Does it matter anyway?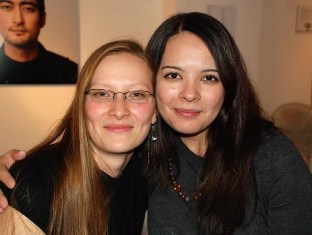 I caught up with Natalie Maya Willer, the photographer, and Marcia Yumi Lise, the social researcher to ask them a few questions.
What attracted you to London?
Natalie: I decided not to embrace either side of my cultural background (German and Japanese) and try something completely new. It's easy to live in London because there are so many cultures.
Marcia: I'm half Italian so I was attracted to Europe generally. I choose London because it's so culturally rich.
What are your favourite Japanese spots in London?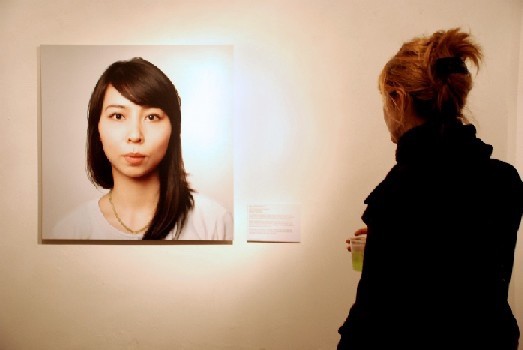 Natalie: I haven't been involved in Japanese London very much before.
But now I am starting to engage with contemporary Japanese culture and I enjoy visiting the Daiwa House and going to Japan Foundation talks.
Marcia: The Japan Centre has absolutely everything!
What do you want people to take away from your exhibition?
Natalie: I'd like people to explore identity – to more deeply enquire into our perceptions of identity. When the half Japanese people here came to the photo shoot we found that questions came out… everyone wanted to talk about their experiences of being a 'hafu'.
Marcia: I think when you see the group of photos here you can see the diversity… We need to stop making generalisations but instead look at each person individually. The exhibition has given us a domain to explain individual experiences of being half-Japanese.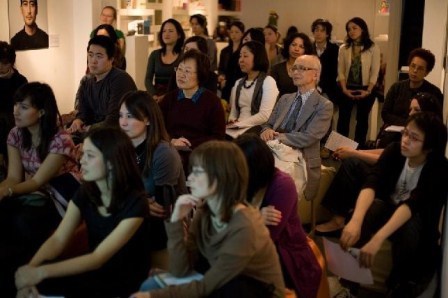 What do you think is the future for the concept of 'race'?
Natalie: Society creates identities out of appearances. In the future we'll be more aware that race does not equal identity.
Marcia: There is a general consensus that 'races' don't actually exist! Humans are 99.9% the same. But confusion and issues stem from the concept of 'race' – which is a false premise in itself…
Read more about the concepts of Hafu at the website. Photos of the exhibition are by Paola Sarappa. Photo of the seminar is by Hitomi Yoda.