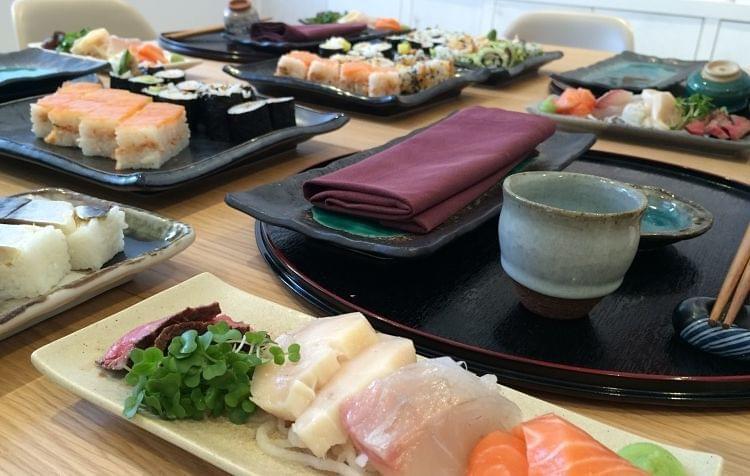 With fresh, high quality ingredients absolutely key to the preparation of sushi and sashimi, it almost feels wrong to call this a 'cooking' class. Instead, Reiko from Hashi cooking provides a deep and detailed overview of the technique that is needed to 'assemble' sensational sushi and sashimi.
There aren't very many ingredients, but they must be spot on to achieve the kind of mouth-watering results that we managed in our four hour class (from 11am to 3pm) on a bright summer Saturday.
Reiko's home-based Wimbledon Park kitchen is airy and minimalist, keeping the focus firmly on the food, and accommodates small groups comfortably around a central island.
A folder is supplied to the participants with all the details of suppliers, a glossary of terms and the recipes. Reiko discusses these points very thoroughly – her enthusiastic and clear explanations made us feel like the elegant simplicity of sushi and sashimi was indeed possible at home!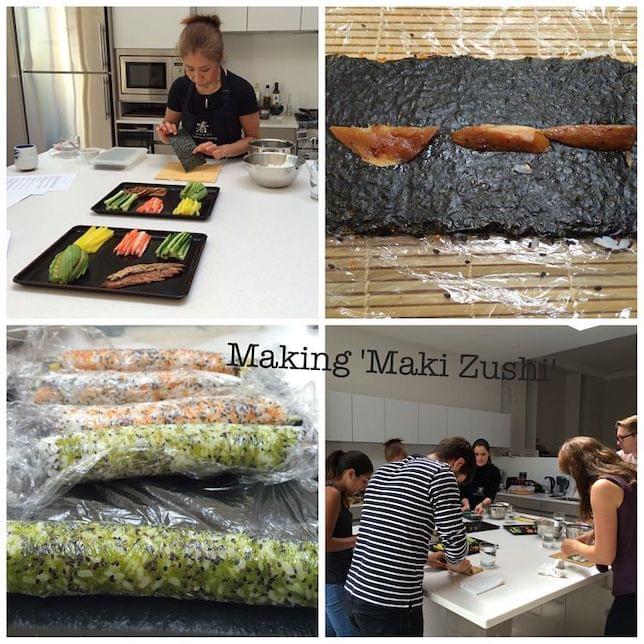 First things first. We were shown how to make sushi rice; carefully folding in the seasonings of rice vinegar, sugar, salt and concentrated dashi stock. This must be done carefully in a wooden bowl with constant fanning, explained Reiko, as a ceramic or stainless steel bowl will make the rice mushy.
With a newfound respect for well-prepared sushi rice, we were raring to get going on the three types of sushi promised! Although straightforward, and commonly made at home, there is a certain knack in rolling maki zushi well! Perfect for a dinner party, they are bound to be appreciated by your guests.
We prepared hoso-maki zushi (thin rolls) as well as ura-maki zushi (inside-out rolls – the ones delicately decorated with fish roe and sesame seeds).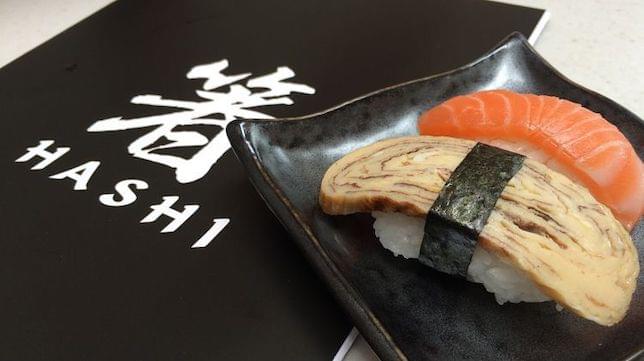 The tamago-yaki (Japanese sweet omelette roll) to top the nigiri was made in a special rectangular pan reserved for this purpose. We all had a go at flipping the omelette, which was deceptively tricky. However, the results just look so professional, especially when you wrap a tiny 'obi' belt around the nigiri. I just love the salty (soy sauce) and sweet (caster sugar) flavour which, served slightly warm, is nothing like the pale topping to be found lurking in chain-sushi restaurants' chiller cabinets.
Oshi-zushi (compressed sushi) is made using a particular wooden box. I'm dying to get my hands on one of these boxes, as using ingredients such as smoked salmon, tinned red salmon and pickled mackerel (rather than fresh fish) means this is dish very easy to shop for. I was highly amused to learn that oshi-zushi is particularly popular in Capetown, South Africa where it is delightfully known as a 'fashion sandwich', presumably due to the stylishly colourful layered ingredients!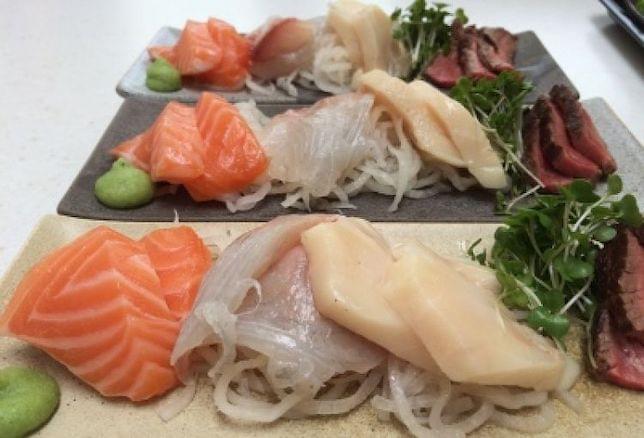 The sashimi section of the class was about understanding how to source the ingredients – and slice correctly (sharp, thin sashimi knife, cut against the grain). The super-fresh, shiny sashimi was placed on top of shredded daikon, and the beef was just slightly seared.
A member of the class asked whether any pre-packaged supermarket fish could be used. NO! came the answer. Get to know your local fishmonger! They can fillet it for you too (the fatty belly is preferred).
Finally, Reiko showed us how to make a tasty miso soup – essential to serve with the meal. We sat down at the beautifully appointed table to feast. She even treated us to a glass of chilled sake and some homemade matcha green-tea ice-cream. Such a spendid, educational and productive way to spend an afternoon!
Visit Reiko Hashimoto's 'Hashi Cooking' website for details of all her cooking classes, held at her home kitchen in Wimbledon Park. I highly recommend you treat yourself (and a loved one!) to a class that will pay for itself – sushi is so much more afforable and healthy made at home. Reiko's 2011 classic 'Hashi: A Japanese Cookery Course' has five stars on Amazon, and following its success, her 'Cook Japan' book.