5 awesome Japan-inspired businesses in Dalston that you seriously need to check out.
Café OTO – Perched on upcycled wooden chairs and sipping flat whites, everyone in Café OTO is discussing Japan. So-and-so's brother has just got back. French students exchange expert tips for dating Japanese women. Perhaps they're trying too hard? But the charm of OTO (the kanji 音 for OTO – meaning 'sound, noise, note') is that it really isn't. There's laid back, unique, cosmopolitan London vibe.
During the day, it serves coffee and tasty, casual Perisan lunches by 'Zardosht' featuring soups, freshly baked wraps and baked eggs (see? Not trying too hard), making it an awesome spot for using their free, reliable wifi getting some work done until 5.30pm when they close for soundchecks.
Most evenings, however, Café OTO opens its heart to welcome highly innovative international musicians and general makers of interesting noise. Some Japanese acts, naturally, but really eclectic world-music acts you'd be pushed to find elsewhere.
The Guardian really rate it: 'Why east London's Café Oto is Britain's coolest music venue'
Cafe OTO, 18–22 Ashwin street, Dalston, London E8 3DL
Monday–Friday, 8.30–5.30pm. Saturday, 9.30–5.30pm. Sunday, 10.30–5:30pm. Gigs begin 8pm usually, buy tickets online to guarantee entry.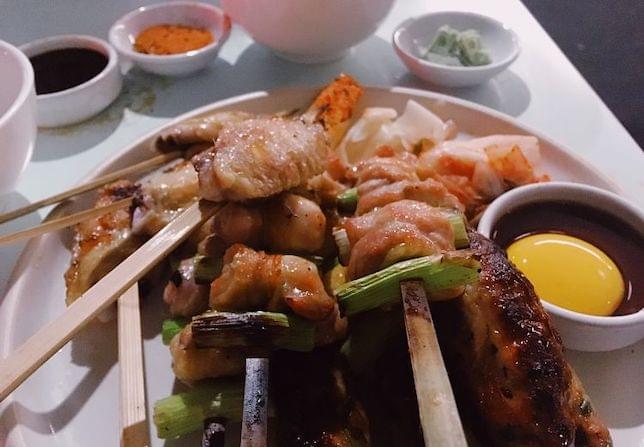 Jidori – Now Permanently Closed – Awesome yakitori restaurant that focuses on the quality of ingredients. Yakitori skewers are prepared in front of you at the bar, on a custom made Kama-Asa Shoten grill, sourced directly from Tokyo.
The menu is short and sweet, featuring different style of chicken yakitori, as well as a couple vegetarian options (aubergine & miso butter, king oyster mushroom). The katsu curry scotch egg is popular, as are the cocktails.
Jidori, 89 Kingsland High Street, London E8 2PB
Open Monday – Thursday 6pm – 11pm. Friday – Saturday 6pm – 12am. Saturday & Sunday brunch 12pm – 4pm
Mamachari – A neighbour to Café OTO, this bike shop founded in 2012 began by importing reconditioned Japanese bikes known as 'mamachari' (nickname for the bikes known as 'Mother's Chariot').
Mamachari since have expanded into one of London's leading bike specialists, with a wide selection of non-Japanese bikes.
Mamachari, 18 Ashwin Street, Dalston, London E8 3DL (branch also open in Walthamstow).
Mon, Wed, Fri 8:30-6:00pm. Tues & Thur 8:30-7:00pm. Sat 10:00 – 6:00pm. Sun 12:00 – 6:00pm.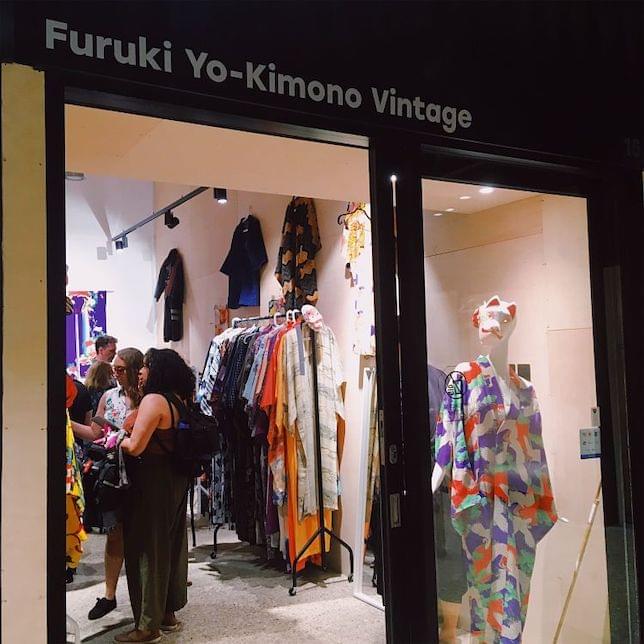 Furuki Yo-Kimono Vintage – London based vintage kimono dealer Sonoe Sugawara named her shop with a play on words (ふるきよきもの) which means 'good old things'.
This fabulous shop is a stunning showcase of kimonos, mostly from 1920-30s pre-war 'Taisho' era, and Japanese Art Deco era.
Sonoe has been collecting vintage kimono for years, and has become a source for Western kimono lovers including fashion designers and film costume designers.
Furuki Yo-Kimono Vintage, Pod 15, The Factory Dalston, 21-31 Shacklewell Lane, Dalston, London E8 2DA
Open most Saturdays (during the week, by appointment / selected dates). OLD SPITALFIELDS MARKET on Thursdays (occasionally, not every week).
Brilliant Corners – Inspired by 'kissaten', Japan's jazz coffee shops, Brilliant Corners serves Japanese food, and streams many genres of music. Aiming for inclusivity and relaxation, it's also a place for a dance. A Time Out restaurant reviewer found it 'random' and disliked 'the fifty-somethings gyrating as we tried to concentrate on nibbling our sushi'. Users respond siting its excellent sound system, natural wines and tasty Japanese food. And lack of Time Out readers, presumably.
Brilliant Corners, 470 Kingsland Road, London E8 4AE
Open Tuesday – Thursday 5.30pm – 12pm. Friday & Saturday 5.30pm – 1.30am. Sunday 4pm – 12pm. Kitchen 6:30pm – 11.00pm