I'm never quite sure if Japan offers a stationery shopping experience that is heavenly, or hellish? Everything is so nice! But also: ARGH EVERYTHING IS SOOO NICE!
I could seriously wander the aisles LOFT or Tokyu Hands for weeks. And the independent stationery shops? Well, I might as well just make myself a comfy nest of fabulous paper products so that I can stay there forever, making lists & keeping journals.
Japanese stationery is designed to be aesthetically pleasing and deeply useful in ways that I hadn't even known possible.
The good news is: we can stock up on imported, genuine Japanese supplies right here in London (and online) with a carefully curated selection of imported Japanese printed papers, classic pens and pencils, and ridiculously handy planners.
Whether you crave super-kawaii cute, plain and functional, or traditional elegance, September wouldn't be complete without some new stationery supplies. Go on, treat yourself. Everything else is rubbish – let's appreciate the small, lovely details that make up life.
If you are anything like me, a good old paper planner is so much easier to manage than a Google calendar ever will be. Read this classic Quartz article 'The mind-clearing magic of Japan's pen-and-paper "planner culture"'.
WARNING: Japanese stationery shopping can be FIENDISHLY ADDICTIVE.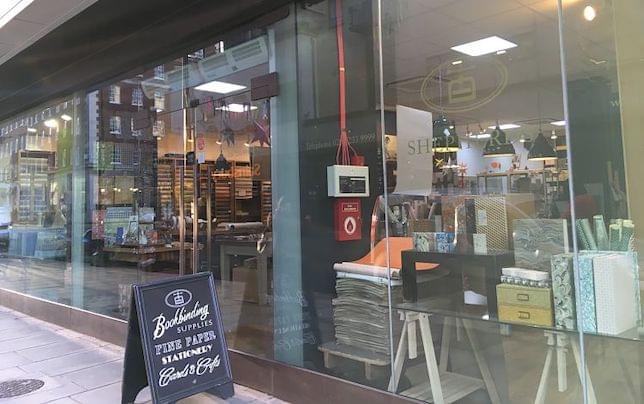 Shepherds 30 Gillingham St., London SW1V 1HU
Shepherds offers an alluring retail shop (once Faulkiners), as well as a book-binding workshop at two nearby locations in Victoria. They offer a veritable treasure-trove of high quality Japanese Decorative Papers for crafting purposes.
'Chiyogami' is an exquisite hand screen printed paper from Japan, developed as woodblock prints to decorate accessories for the home. 'Katazome-shi' literally means stencil-dyed paper. 'Unryu' means 'cloud dragon paper' and contains visible strands of fibre. You'll seriously consider the feasibility of wallpapering in Japanese paper.
nook 153 Stoke Newington Church Street, London N16 0UH.
Nook is a design shop in Stoke Newington run by Gemma & Jack – an independent retailer which has weathered the storm of 2020 with an excellent online shop.
Stockists of the classic Yamato Nori Starch Glue, Midori brass pencils, pens & pencil case and the ever-so-useful Toyo toolbox.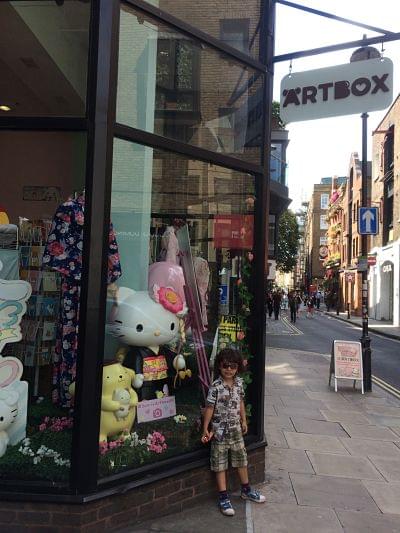 Artbox Covent Garden 44 Shelton Street, London WC2H 9HZ
Artbox is a 'kawaii emporium' / stationery chain, with a main branch at Covent Garden, boasting an extensive collection of San-X character Japanese stationery and plush toys, featuring the classic Hello Kitty motif.
Also find the latest popular characters, such as 'Gudetama' fried egg. I love his depressed, lethargic mood – it's a whole 2020 mood. Ha!
Tofu Cute (often found at the Hyper Japan festival in London) now also has a concession inside ARTBOX Covent Garden. Tofu Cute sells delicious Japanese snacks, and fluffy AMUSE plush toys.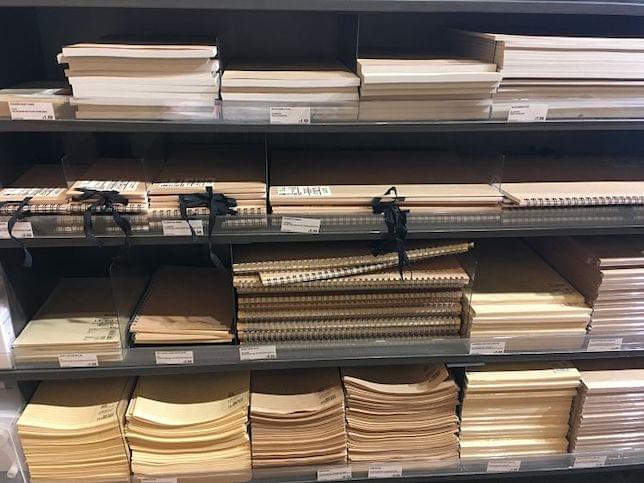 MUJI Unit 4/5, 6-17 Tottenham Court Road, London W1T 1BF
'Muji' translates as 'plain' in Japanese, and its notebooks are distinctively so, with simple brown card covers. Indeed, everything sold in MUJI embodies the stripped down functionality and aesthetics of the brand.
MUJI also sells pens in a pleasing array of colours, as well as many folders, plus organisational and filing accessories. I absolutely love my desk fan from MUJI, it seems to be on permanently for 2 weeks every August!
Paperchase, 213 – 215 Tottenham Court Road, London W1T 7PS
Paperchase closed permanently on 17th February 2023
I just can't help but love Paperchase, a chain established over 40 years ago in the UK, which stocks a range of eclectic Japan-inspired stationery products, changing their popular prints from season to season.
The Japanese aesthetic captured by Paperchase is popular. The flagship shop at Tottenham Court Road is always a treat to browse, but Paperchase branches are dotted about all over the UK.
Top tip: If you go up to the top floor at Tottenham Court Road, you'll find a range of very inexpensive stylish prints & posters to frame. I have a poster frame with prints that I like to rotate throughout the year (ie. Santa one at Christmas – v. satisfying).
The Journal Shop 372 Ealing Rd, Wembley HA0 1BH.
The Journal Shop is exclusively devoted to stationery, with a location in Wembley, as well as online. Link above goes straight to their Japanese round-up. Gorgeous.
Quill London 37 Amwell St, London EC1R 1UR.
Specialises in modern calligraphy, and has a branch in Marylebone. On their online shop, Quill London's 'The Japan Edit' features glass pots of Kyoto Ink, as well as dreamy hues of MT Washi Tape.
Thanks for reading!
If you are also 'one of those people' who love everything Japanese, then join the gang & stay in the know with my bi-weekly newsletter. Sign up here.
Yoroshiku ne!