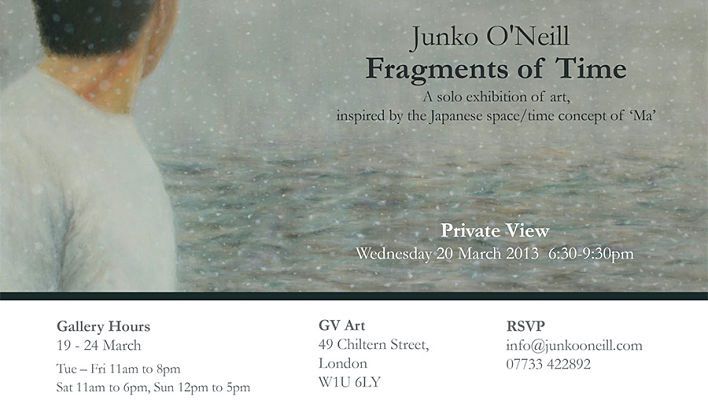 Junko O'Neill, a Japanese artist now residing in the UK, brings her solo exhibition entitled 'Fragments of Time' to London this week.  Here, she tells us about the concept of 'ma' and events surrounding the exhibition.
Junko's exhibition is now over, but you can see some photos of the opening night here.
1. What do you do, and why?
I am a fine artist and having my first solo show in London entitled 'Fragments of Time', all inspired by the Japanese spatial and temporal concept of 'Ma' from 19th March until 24th March at GV Art gallery, 49 Chiltern Street, London  W1U 6LY.
Figurative and abstract paintings as well as 3D pieces are all inspired by the space/time concept of 'Ma', which is unique to Japanese culture. The concept considers space as fundamentally void: only space itself is deemed to be eternal and everything that fills the space is of a transient nature.
I also source ideas for my works from Japanese literature such as Haruki Murakami's novels. I find these novels and my work share the same sense of time passing within space.
You can read more about the Japanese concept of 'Ma', or negative space on Wikipedia here.
2. Why should people come along to the exhibition?
During the exhibition period of 19-24 March, we are having various interesting and interactive Japan-related events to spark interested in Japanese culture and hopefully in my art!
If you can't make it to the private view, there's lots of other things to enjoy! You can view my artwork as well as participating in a workshop of origami folding or calligraphy, and there's also a panel discussion about the concept of 'Ma'.
3. What are your top tips for attendees/people who are interested?
Here's the schedule of the Public Program to complement the exhibition:
The program is designed for a wide audience of different ages to get a better understanding of the artwork, and to generate an interest in Japanese culture and its fascinating concept "Ma". All events are FREE of charge.
Thursday, March 21st 7- 9.30 PM
Panel discussion on the Japanese concept of "ma", and music interlude by Robin Thompson from the Okeanos Ensemble.
'Ma' the Japanese time/space concept: how we perceive space.
'Ma' is sometimes confused with empty space. However, this Japanese spatial concept perceives space as a time flow. It is an essential element within Japanese culture including the visual and performing arts, architecture, literature and even lifestyle. This panel from various backgrounds will discuss the differences between the approach towards space adopted by the Japanese and that of the West.
Andrew Buchanan, Centre Director, Fairfield Arts Centre in conversation with:
Junko O'Neill, fine artists, http://www.junkooneill.com
Robin Thompson, musician, Okeanos Ensemble
Martina Mercer-Hall, feng-shui master http://thesmilingfrog.wordpress.com/feng-shui/
Chris Harrod, art enthusiast
4. What's your favourite Japanese thing in London?
Authentic Japanese sweets, known as 'wagashi', at Minamoto Kitchoan in Piccadilly. You can buy just one and have a cup of complimentary green tea at a bench in the shop!
For more information please visit http://www.junkooneill.com