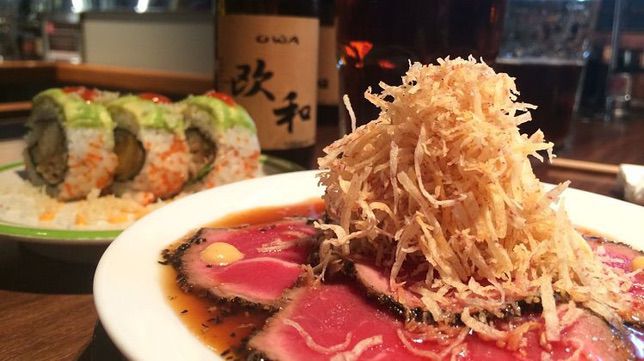 Why? I'm particularly partial to a 'kaiten zushi' (conveyor belt) sushi restaurant. There's still something curiously futuristic about the concept. Snatch tempting titbits within arm's reach before they pass by, like some kind of hunter-gatherer Tokyoite: 'LOOK, man! I have brought you raw fish!'
When? A Friday evening in August at 6pm. The restaurant is open Monday to Friday at lunchtimes 11.30am – 3pm, and evenings from 5.30-9pm (9.30pm Wed-Fri). Being in the Broadgate Estate business district, K10 is not open on weekends.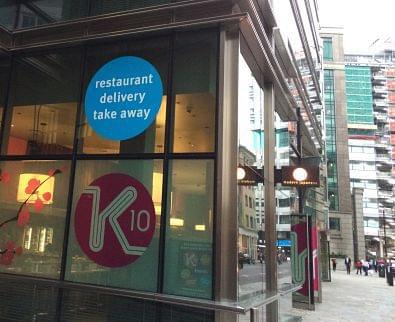 First Impression: Long conveyor belt with protruding peninsula bits! The manager, Justin, gave us a friendly welcome. There were plenty of staff creating sushi, but the restaurant was quiet and calm after the crush of Liverpool St station.
Tucked away behind the station, this is a very handy place to know about.
Super busy at lunchtime (there's a large take-out section too), it is less so at dinnertime, which makes it a fab after work alternative to crowded pubs or having to stand on the street quaffing a pint.
Ambience: Functional and friendly. Kaiten sushi is always a casual and inexpensive experience, and K10 is no exception.
Clientele: Couples, a group of office worker friends, and us with our shouty one-year old. Ahem. There are no baby seats, but we brought our own chair harness, and staff treated our son like a tiny celeb as he devoured nori maki.
Description of food and drink:
We started with an 'Owa' beer. A Japanese-Belgian beer brewed in Belgium, this makes a pleasing change from the usual lagers. It's more like a lager than the usual Belgian beer, which ensured the flavour didn't overpower the food. More enticing than the standard Japanese bottled lager, it was deep amber colour, and very refreshing.
K10 is an ideal sushi restaurant for those who are new to sushi. It might even be a sushi restaurant for people who don't even like sushi! Why?
Well, the sushi menu is pretty simple and includes familiar salmon and tuna sushi and sashimi, as well as maki rolls, on colour coded/priced plates. You can try small portions of things that intrigue you as they pass by on the belt.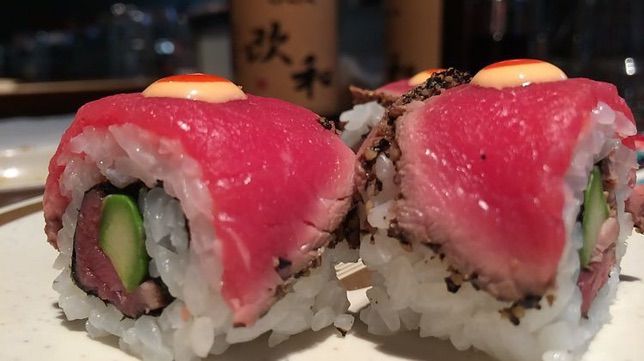 Also, 'K10' is very appropriately billed as 'modern' Japanese. It's not really a traditional approach to sushi at all, in fact, I'd go so far as to call it 'fusion' – mostly in reference to the many sauces used. Condiments ahoy! Sesame, chili, mustard, soy, dill, ponzu, teriyaki are dotted liberally on K10's creations, which is very much to Western tastes, and illustrates off the attention to detail.
Being totally obsessed with ponzu (soy sauce mixed with a yuzu citrus fruit extract), I was delighted to be recommended to try a seared salmon in ponzu dish, which was excellent.
Seared beef carpaccio and seared tuna are also signature dishes (served like sashimi: without rice). Both tasty, juicy, and ideal for those a little hesitant to go fully raw!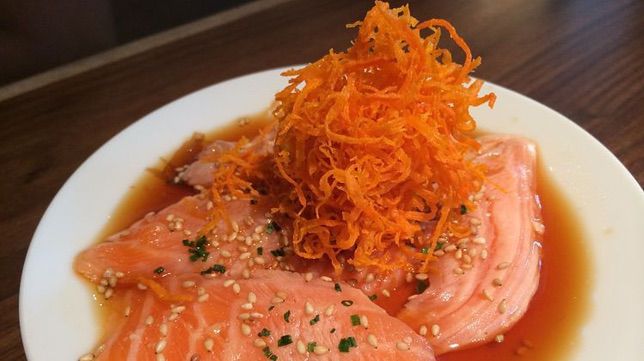 I liked the regular nigiri and maki sushi offerings less than K10's signature creations.  I found the rice a little dry.  The rice is formed into the perfect nigiri shape by an automatic rice forming machine, which was rather intriguing to me, having never seen one before.
My absolute favourite dish was scoffed before I had chance to take a photo. Seared salmon was draped over perfectly cooked tenderstem broccoli and dressed with dill and a zingy fusion dressing.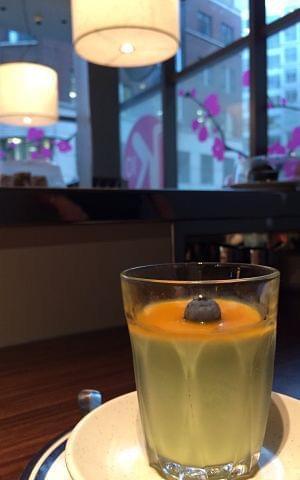 The desserts: a light green tea mousse with a tangy mango topping; and a melty 'hot chocolate' brownie concoction were well above average for a sushi place.
TIP: Most of what we ate wasn't actually on the menu! Not having a menu set in stone allows the restaurant the flexibility to use the ingredients which are fresh and in season. However, as the customer, you need to take full advantage, and ask the staff about specials. And get your karaage fried chicken fresh and hot from the kitchen – yum.
Service: The staff is multi-national and friendly.
Prices: I do believe all kaiten sushi restaurants operate with the same simple billing system of colour coded plates.
Dishes from less than £3 – £7. Affordable.
Hot sake – 'Kizakura' – a Junmai from Kyoto was £7.50 for 300ml. Cold sake was double that.
Toilets: Although the restaurant does not provide any child seats, there was a baby change toilet available, which was a welcome surprise after another (less welcome) surprise.
Come again? Yes, I'd come by myself for a quick bite, or with a friend on a chilly evening to share a chat and a flask of hot sake.
Many thanks to Justin and the staff for having us in to try K10.
K10 Modern Japanese http://k10.com/k10-restaurants/k10-appold-street-broadgate/
3 Appold Street, London EC2A 2AF
Nearest tubes: Moorgate, Liverpool Street and Bank
Tel: 020 7539 9209