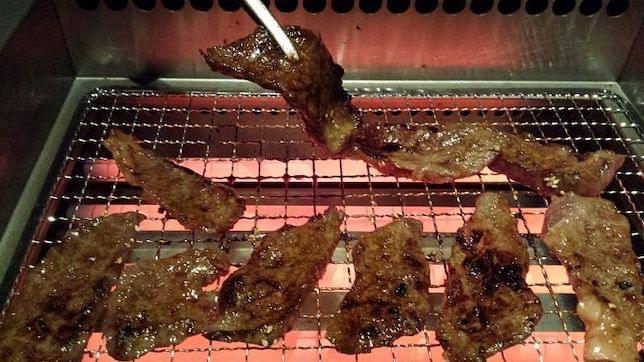 Why? Date-night / hubby's birthday. Kintan specialises in 'yakiniku' literally 'grilled meat' & were we ever dying to get our chops round it. With branches in Tokyo, Hong Kong and Jakata, Kintan is a newcomer to the booming Japanese food scene in London – a welcome scene which now emphasises just one specialist dish, as restaurants usually do in Japan.
When? A Thursday evening in December at 8pm.
First Impressions: For some reason I expected it to be kind of smoky, rustic and meaty-smelling, but it wasn't. It was sleek, smart, shadowy and clearly has some venerable ventilation going on. Surprisingly spacious, with lots of different seating options.
An affable server led us to our booth and suggested sparkling sake. It would have been rude not to… we loved the light, pear-y flavour.
Ambience: The personal cooking grills in the centre of each table lend the place a cosy glow. Unlike Abeno (the London-based Japanese okonomiyaki restaurant) Kintan trusts customers to actually do the cooking on the table themselves, which I was suitably chuffed about. Meat is harder to get wrong than an runny, eggy pancake, but it still felt like a honour.
Clientele: Well, it was Christmas party season, so there were a few large corporate groups in the private (ish – with drapes) rooms at the back. Surprisingly, the big groups didn't disrupt our date at all. Kintan attracts a civilised sort of party goer.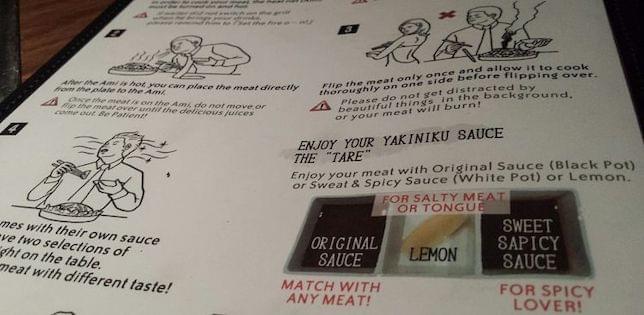 Description of food and drink: Meaty meat meat. Filet Mignon in Yuzu Ponzu, Premium Kalbi Short Rib in Tara Sweet Soy and Harami Skirt Steak in Miso to be more precise! Although the meat comes in sauce – don't hesitate to douse it in the dipping sauce also provided on the table, as detailed in the menu above.
But actually, things other than meat were also excellent. I had to try the takoyaki (battered octupus balls), which were good. Particularly worthy of mention was the Tuna Tartar Volcano – sprinkled with popping black caviar and positively erupting with yumminess.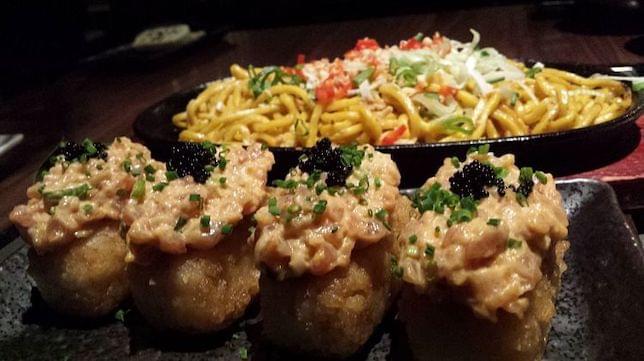 Service: Really pleasant, friendly, unassuming but professional staff provided exactly the right amount of info and attention.
Toilets: We watched many people stumble awkwardly on the diagonal steps to the basement toilet. Then, we did it ourselves. Good loos though.
Prices: We were absolutely stuffed with a few additional starters plus the 'Value BBQ Course'- which at £39.50 really is a steal.
Loved the 'Mio' sparkling sake, but at £20 for 5% alcohol, you don't get so much bang for your buck. A pint of cold draft Asahi cost £5 and hit the spot.
Come again? Yes, would love to try it with a big group, lots of fun! Also, it would excellent with people you don't know so well, as the process of cooking together would really melt the ice.
Many thanks to Kintan for having JapaneseLondon.com in to review, we'll be back for to celebrate with more meat.
Kintan Japanese BBQ
34 – 36 High Holborn, London WC1V 6AE
Tel 020 7242 8076, Tel (Japanese) 07477 692466