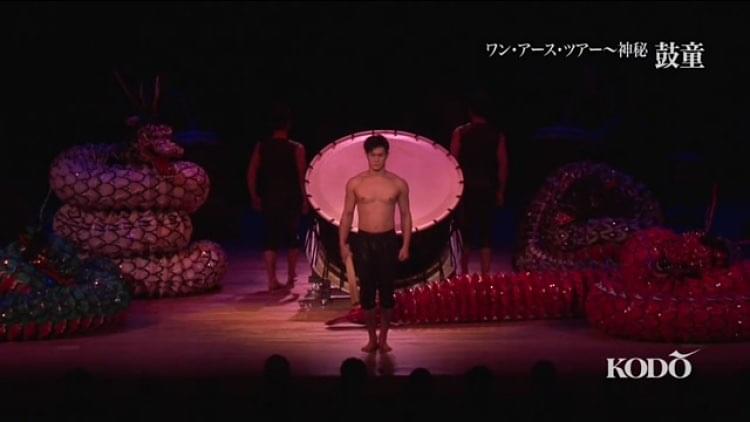 Yearning for the deep, primal reverberations of an
o-daiko
drum? A KODO performance cannot fail to rumble, shake and move you. These Japanese performers – based on Sado Island – sure don't travel lightly: central to the show is the diversity of drums – from big to very, very big!  The elegance, versatility and sheer simplicity of touching wood to hide is the essence of KODO. Enjoying a timeless appeal, and celebrating their 35 years of taiko drumming, the KODO group are again performing all around the world. An outstanding highlight of the 'Mystery' show has to be the dramatic use of light and shadow. Darkness focuses the sense of hearing. The audience anticipates, listening to the layers of sound building, transported to another time and place. The mythical land takes form, as colourful characters invade the stage, bringing stories to the sounds. From the gentle, persistent sound of rainfall in the forest, fabulous larger-than-life serpents suddenly slither on to the stage to coil and uncoil in time with the ancient rhythms. Other characters include a two-person dragon, and three shaggy-haired, old-style forest 'demons' who frighten the performers into a humorous dance – offering sake to appease them. I particularly enjoyed these references to traditional Japanese culture, which are woven into a show which might otherwise be described as youthful, urban and sleek – not words which you'd think would spring to mind for KODO. Although the tour celebrates 35 years of the group, I can't think any of the current members were born when the group started, so nods to the past traditions are welcome.
Taiko drumming has always been about power and theatricality – the stylised stances and rippling muscles add to the pleasure of the drum rhythms, but since 2012, KODO has been under the artistic direction of Tamasaburo Bando, a veteran Kabuki actor. Bando's determination to move the company forward has resulted in a less traditional, more pointedly theatrical focus, the inclusion of female parts, and modern costuming. These changes are not without controversy and offer fans, old and new, something to talk about. There was full house house at the Barbican – KODO enjoyed a sold out show last Monday, 15th February. Thanks very much for offering JapaneseLondon.com the opportunity to review the show. For dates and locations in the
Mystery tour, see KODO's website here.