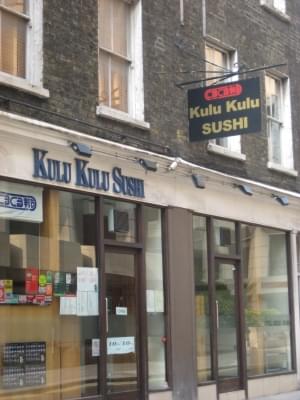 Why? I took my dad here last time he was in London visiting and he really liked trying out different dishes from the revolving kaiten belt. Now we always try to go when he's in town!
When? A Saturday in September, 5.30pm. Not busy when we arrived, but more so when we left.
Impression: Appetising dishes revolve on belt, the green tea is free. The Sri Lankan sushi chef (does anyone know why there are so many Sri Lankan sushi chefs in London?) works diligently away in the middle making fresh dishes.
Prices: Cheap! The usual plating system is in operation, with plates ranging from £1.50 to £3.90. And it really is refreshing to help yourself to unlimited free green tea.

Service: Polite. The chef promptly prepared my request for fresh inari. I had a nice chat with the staff about the baffling preponderance of Sri Lankans working there on the way out!
Description of food and drink: I had a hand roll that I watched the chef prepare (see photo!) – I couldn't resist the combination of an 'ebi fry' (fried shrimp) with avocado. It was excellent, although possibly a bit steep at £3.90.
I adore the Nasu Miso here (aubergine in soy bean sauce). It's so creamy. It must be calorific.
My dad picked a green seaweed dish that I had not tried before. It was lovely and crunchy. When I asked what type of seaweed it was, none of the staff knew. I guess it comes pre-packed!
Everything else that we tried (sashimi, sushi, chicken) was pretty standard – but rather tasty and worth the price.
Toilets: OK.
Come again? Yes. This is a calm, affordable place to grab a bite at lunch or dinner time. There are also branches of the dependable chain in Soho and Covent Garden. Be aware that they close for two and a half hours in the afternoon – from about 2.45pm – 5.30pm (branches vary).
Kulu Kulu Sushi
39 Thurloe Place
London SW7 2HP
Tel: 020 7589  2225