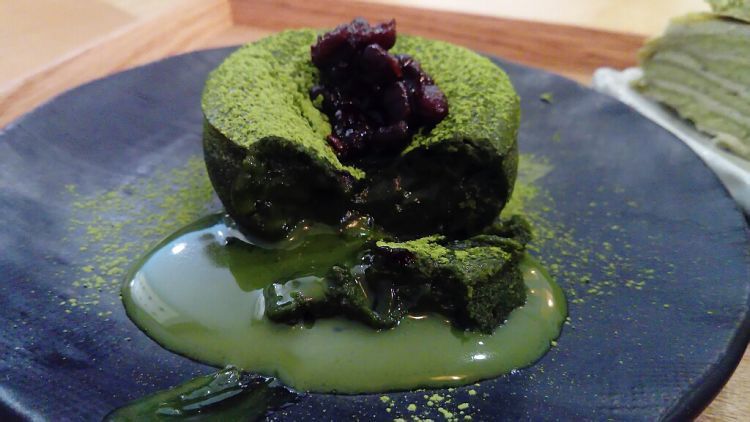 When & Why? It was fortunate that we arrived sharpish at 12 noon to try this recently-launched restaurant for lunch on a Friday. By 1pm, everyone in London seemed to have had the same idea and the place was packed out, with an orderly queue on the street outside.
First Impressions: Machiya is a neat, narrow fronted location on Panton Road, one down from a branch of its sister-restaurant, Kanada-ya. Panton Road is so handy – just off Leicester Square – but often overlooked in favour of the more major thoroughfares.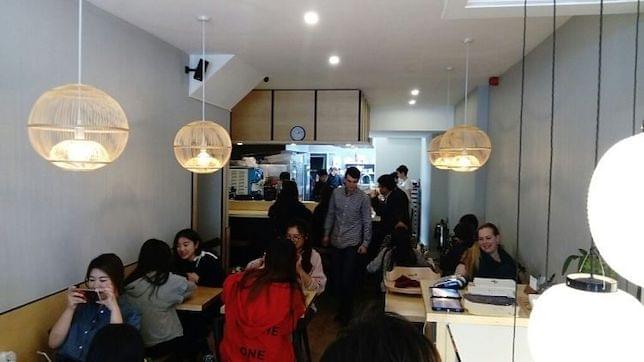 Ambience: Bright and light, Machiya is a small restaurant with a café-like feel and a busy open kitchen at the back, surrounded by high stools. It makes much of its inspiration from Kyoto's traditional teahouses (Machiya) but it certainly doesn't look like one.
Clientele: There were some Japanese diners – businesspeople on lunch. Also very popular with Chinese students busily sharing their experience on social media!
Description of food and drink: The menu is divided into izakaya, yoshoku and washoku with only about 10 main items. Machiya is really excelling at offering just a handful of well-made Japanese dishes that are rarely found in London so we made a point to order these.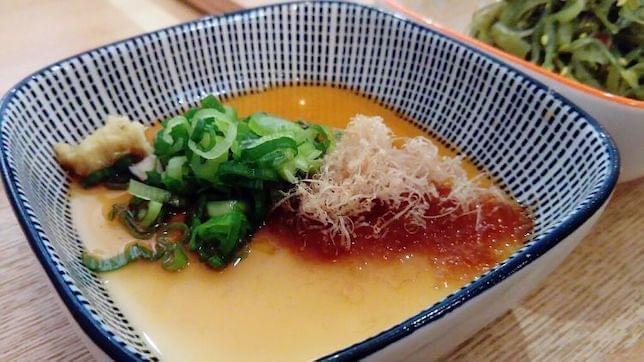 Highly recommended is the cool, silken 'tofu custard' – a refreshing summer choice (*see photo above). The mild creaminess of the custard is contrasted with toppings of grated ginger, spring onion and 'itogaki' – which is blue fin tuna (or Itogaki) treated like katsuobushi (dried bonito flakes). It is salted, smoked, and shaved extremely finely. An elegant dish.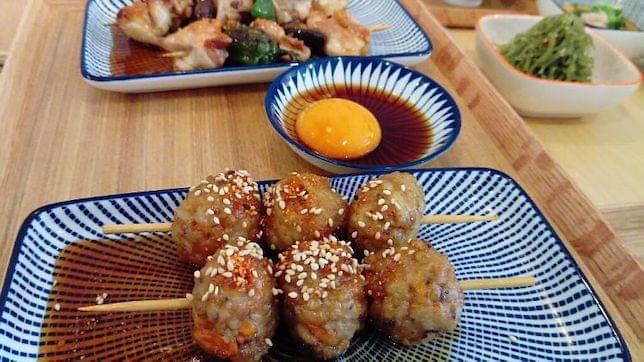 The 'tsukune' are minced chicken skewers served with a raw egg yolk for dipping. Rather nice, it was, however, less interesting than the tofu custard.
I'd hoped to order Machiya's 'wagyu-katsu', a distinctive dish limited to 20 per day. Sadly, the day's meat order had apparently not arrived and thus it was unavailable. It's all over the internet, and I noticed many other disappointed diners who were after it too! Shouganai, as they say in Japan (it can't be helped). Most of us made do with the 'tonkatsu' instead (made with the standard pork, rather than Australian grain-fed wagyu beef).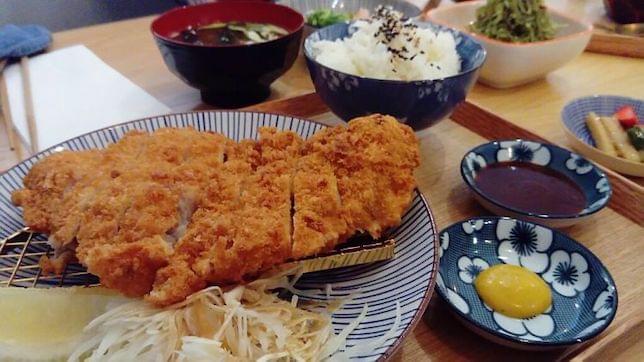 The 'tonkatsu' is excellent value at £9; the large breaded pork cutlet is served with a little shredded cabbage, a slice of lemon, mustard and brown sauce, and comes with rice. It was crunchy, hearty and tasty and I liked it very much.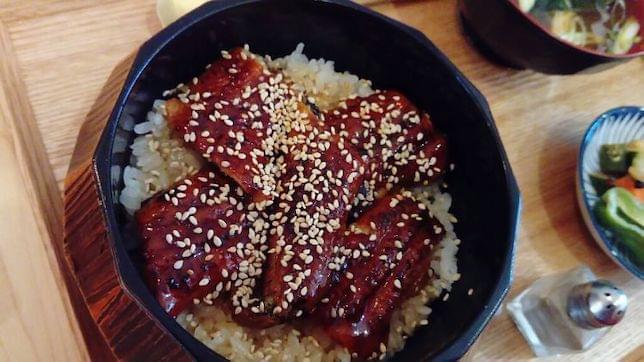 My partner was keen to try the 'unajyu' – unagi (eel) on rice with sauce. This came in a lidded pot on a wooden tray – it looked a bit sparse. It was something he'd not had since living in Japan, but this version was a little lacklustre and not so cheap at £17. Perhaps it could be served as a set with miso soup (£2) on the tray for more perceived value?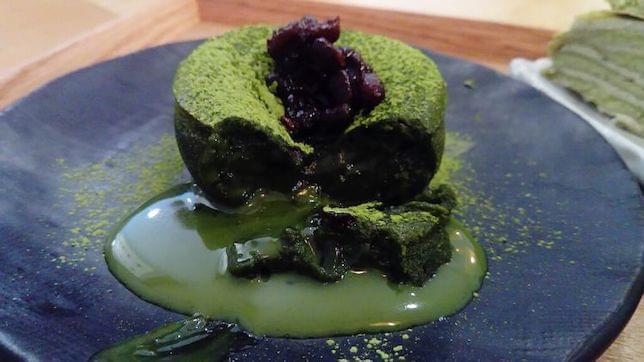 Dessert was wonderful. Our teas – a 'Kyoto Oolong 2016' and a 'genmaicha' – both came in nice black iron teapots. The 'genmaicha mille crepe' was good, light green, with layers of fluffy crepe and cream. The 'macha fondant' was outstanding. The deep green cake was topped with a pile of red bean paste and gushed a puddle of unctuousness when cut open. I'd go again just for that.
Machiya needs to stick to a short menu of well-prepared dishes that are rare to find in London. For such a small place, it's very ambitious, with a cocktail bar underneath in the basement and plans to offer afternoon tea.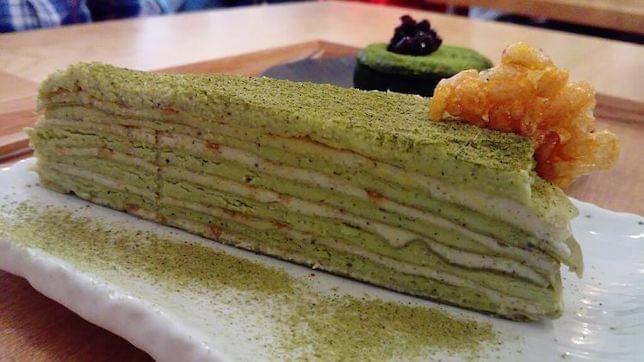 Service: Staff quietly efficient. As we ordered, we requested some items as starters and others as mains. However, they all came at once (which wasn't a great problem except we looked sooo greedy!) and it would have been nice to know this would happen so we could have staggered our order.
Toilets: Downstairs. Not wheelchair accessible.
Prices: Machiya offers a short, affordable menu with the most expensive dishes being the unajyu at £17 and wagyu at £19. The tonkatsu was superb value for money at £9.
Come again? I'd definitely like to try the wagyu-katsu next time. Followed by matcha fondant. Always the matcha fondant!
Machiya
5 Panton Street, London, SW1Y 4DL
Tel: 0207 925 0333