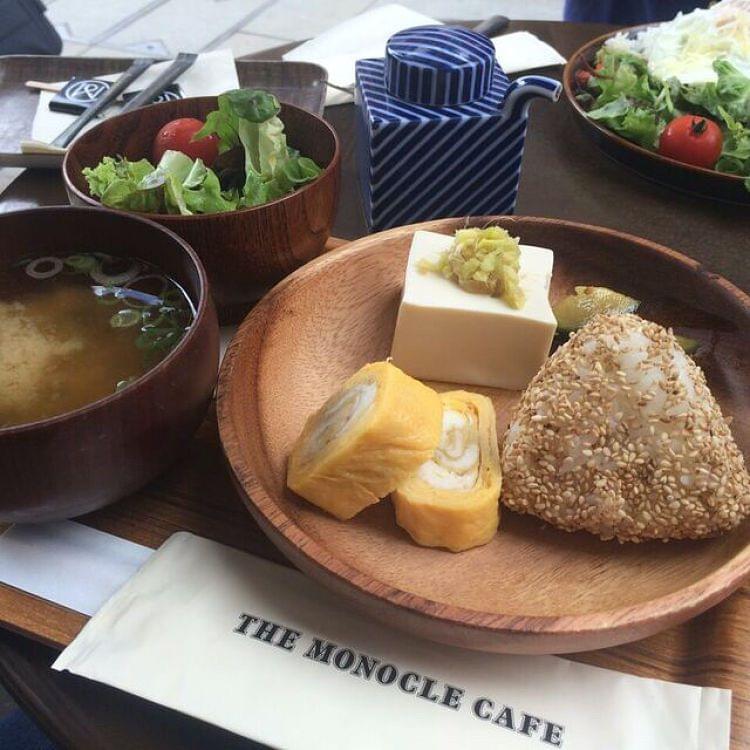 Why? To meet the wonderful Susan for brunch. She works nearby at Daiwa, but rarely has the chance to explore Marylebone. I'd been doing some heavy googling to track down that elusive meal: the 'Japanese Breakfast' in London. Monocle cafe popped up with a selection of Japanese-inspired items – and a 'Scandanavian Breakfast' too.
When? 11am on a Thursday on a sunny August day.
First Impressions: Natty black and white awning outside; neat inside with slatted red oak counters. Inside, there are newspapers tidily hung on sticks, as well of back issues of the magazines for the customer to thumb through. Also, abundant Monocle magazines, Monocle books and Monocle products (lifestyle accessories, such as bags, mugs and brass paperweights) for sale.
Ambience: Every detail in the cafe is selected to add to the ambience. You could be in Tokyo – even the space is typically narrow, which can cause some awkward bunching around the till. Luckily, the clientele are eminently civilised. There was a snug seating area at the back – communal and comfy with cushions, but unfortunately with a television showing 'news'. We took an outside table. You might not get a table at a busy time.
Clientele: Monocle converts. Think: tasteful, cosmopolitan disciples of the Canadian-born Monocle founder; design consultant & publisher Tyler Brûlé (of Wallpaper* fame).
Description of food and drink: I had the Japanese Breakfast, which really hit the spot. I've had nothing quite like it in London. The set is comprised of a side salad, a miso soup, and a bowl containing 4 items: a tuna -filled and sesame-seed rolled onigiri (rice ball), an exquisitely executed sweet omelette roll, ginger-topped tofu and several lovely cucumber tsukemono (pickles). It was delightful and well-priced at £8. The hallowed Allpress flat white was very good.
Susan had the taco-rice, £9, which is a popular Okinawan dish, popularised by Tex-Mex loving U.S. servicemen. Lots of fresh salad, meat and an egg on rice. I've likewise not seen this dish in London before.
The cakes are delivered daily from 'Lanka' – a French patisserie near Finchley Road (run by French & modern British cuisine chef Masayuki Hara) and star fusion flavour favourites such as matcha and azuki beans.
Service: We found the staff to be particularly pleasant and on the ball. In fact, they tempted me with a Yamazaki Japanese whiskey highball, which was a brilliant upsell.
Toilets: The first TOTO washlet I believe I have ever seen in a cafe in London (there are washlets to be  found – but mostly in top-end hotels), complete with instructions and diagrams on the wall. *Hint – don't look in the bowl to see how it works as you'll get a jet of water in the eye. Not that I ever did that. Ever. I lingered longer than I should have as there was an interesting radio show on about Japanese immigration. Radio 4? I wondered. It was only after that I realised I'd been listening to Monocle 24 – it's own 24/7 radio station! I've got the app now, so I can listen on my own loo at home.
Prices: Very reasonable with the most expensive item on the the menu being taco rice at £9. An assortment of sandwiches (such as shrimp and beef katsu) and salads (halloumi, 'Midori'), as well as udon, curry, and Japanese potato salad all coming in between £2.50 – £8. A bottle of wine costs £18. Happy hour is from 5.30pm until they close at 7pm (Sun – Wed) or 8pm (Thurs – Sat) with beers and wines £3 and mixed drinks £5.
Come again? I desperately fancied a Swedish cardamon bun – they look amazing – but I'm saving that treat for next time. I'll also pop in the Monocle shop just around the corner. Yep, I'm a convert to the carefully curated cult of Monocle.
Monocle Café
18 Chiltern Street, London, W1U 7QA – nearest tube: Baker Street
Tel: 0207 135 2040