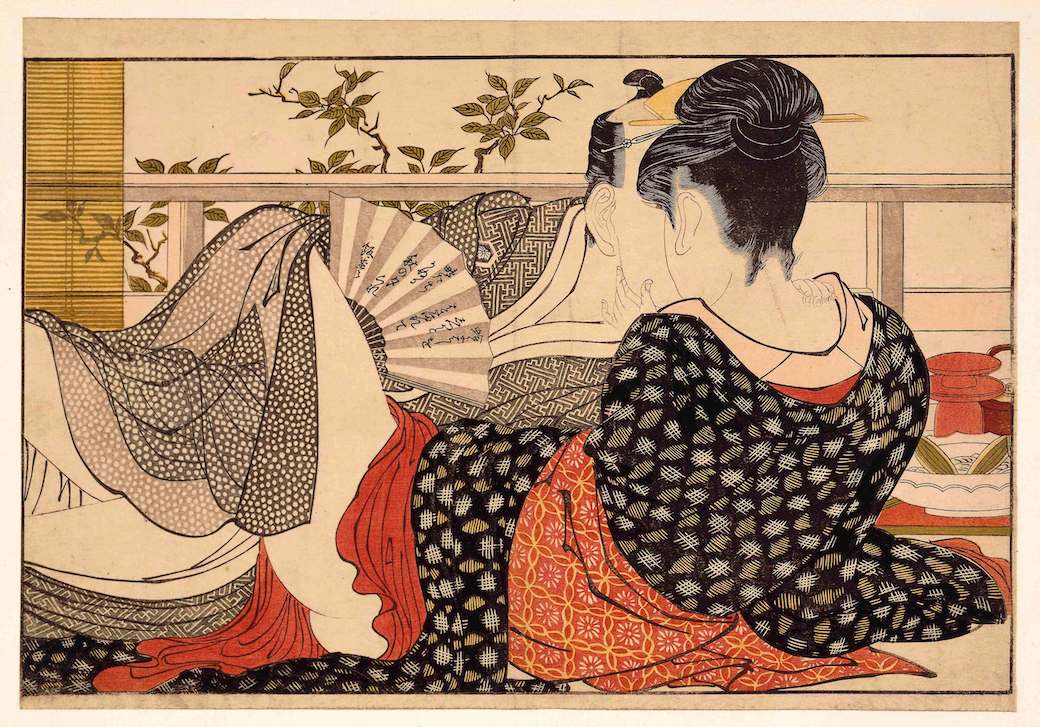 Totally titillating, uproariously ridiculous and gleefully clever; the Shunga Japanese art exhibition now on (until 5 Jan 2014) at the British Museum is custom made to appeal to the British public. A wide range of Shunga illustrations from 1600-1900 Japan by Utamaro, Hokusai, and countless other contemporaries come together in a veritable orgy of art. Judging by the throngs lining up to ogle this captivating collection on a recent Sunday afternoon, Japanese erotic art is currently very popular in London.
I arrive at the exhibition and immediately overhear: "He left after a minute. Yes, he said once you've seen one, you've seen them all!" I ponder this as I peruse the collection. I could see his point. There are a great many depictions of over-sized genitalia; that is for certain. But, having eyeballed the majority of said members, I couldn't disagree more. In fact, what is overwhelming is the sheer variety of the images, and their many sanctioned functions, for example; to arouse; to instruct newlyweds; to illustrate legends; as battle talismans; and, oddly, to protect against fire. To scorn the exhibit as simply silly, saucy images is a serious error.
Something becoming increasingly clear to the British is the fascinating way the Japanese outlook on life manages to hit the nail on the head. Though 'No sex please, we're Japanese' approaches to the 'weirdness' Japanese sexuality still tend to predominate in the West, this exhibition may help to move us past such under-thought interpretations. After all, just a few lines drawn on a page bring us not only titters, but also wisdom and beauty; a typically Eastern juxtaposition of purpose. This is possible as native beliefs of Japan had 'little sense that sex was sinful'. Hokusai's 'Adonis Flower' series from 1822-23 features a print of a married woman asking her lover to stop; 'that's dirty', she says. 'What do you mean dirty?' he responds, 'that's where we get born from'.
Other images are just for amusement – for example, penis size competition entrants prop their mammoth members up on wood stands. Nonetheless, the greatest proportion of the Shunga we see offers much more.  Sexual violence is discouraged by depicting attackers as ugly and repellent. Female sexual pleasure is championed. Authority is depicted with satire. Shinto deities Izanagi and Izanami perform the heavenly lovemaking that gave birth to the nation of Japan. So healthy for the mind, spirit and funny bone is this art, the greatest shame is that contact with foreigners in the 1860's and 1870's made the Japanese authorities self-conscious, leading to the strict outlaw of Shunga.
'Living from moment to moment; singing songs and drinking sake while gazing at the moon, the snow, the cherry blossoms and the maple leaves; merrily drifting along…your spirits unsinkable as a gourd riding a stream; that is life in the floating world.'
Open daily until 5 Jan from 10.00–17.30, Fridays until 20.30. Tickets cost £7 for adults or £5 for 16-18 year olds. Parental guidance advised for visitors under 16.