**Cheat's Notes**: SO is a compact restaurant located in Soho that offers great service and a surprisingly sophisticated, fresh and tasty menu. Loads of room downstairs. Lunch sets start at £7, and other evening offers are available when pre-booking. SO serves IPPODO Japanese teas and also offers popular sushi-making classes. Important tip – Do not skip dessert!
Why?
Daigo (a student and now a good friend) and his wife are returning to Japan after 5 years in Europe. They were so kind as to treat us to a good-bye meal. We'll miss them!
When? A Thursday evening at 6.30pm – the restaurant was not busy when we arrived, but soon filled up upstairs (although there's plenty more seating downstairs – with an impressive view of the kitchen).
Impression: As you enter SO Restaurant, you encounter a sushi bar replete with professional-looking sushi chefs, which is always reassuring. A thoughtful natural lighting panel above our table brightened the atmosphere without detracting from the subtle décor.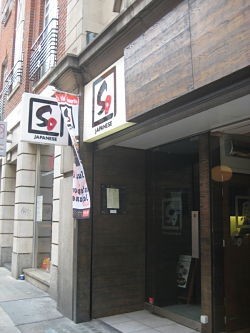 Prices: Mid-range, although indulging in one of the many excellent sakes on offer will of course bump up the cost.
Considering the excellent quality of everything I tried, I do think SO provides great value.
An exciting range of starters and sides are all under £7. Main courses range from £12-£20. Sushi and sashimi are available from the A La Carte menu or in larger serving sizes for groups.
Service: The waiters were on the ball and very pleasant. I was able to practise my Japanese.
Description of food and drink: To accompany a cold Asahi beer, I had a traditional starter – a creamy Aubergine Denngaku – which was all I could have hoped for in this life, or the next. Naomi had an interesting fusion dish of Octopus and Tomato salad which came with black olives (not noted on the menu).
We never quite got round to the menu's main dishes, although we did share a wonderful, slightly-charred-around-the-edges Grilled Iberico Pork with Miso.
What with the feather-light tempura (we choose prawn, vegetable and soft shell crab) and the excellent sushi, we had already been spoilt for choice.
Tito and I opted not to have dessert; a foolish choice. The Chef's Daily Dessert was splendid: a black sesame ice cream, a mango pudding, and a green tea cake with a few adzuki beans for good measure. Next time we will definitely leave room!
Toilets: Good. Individual hand towels are a nice touch. By the way, steaming hot hand towels are also brought to you at the table, which is unusual in London.
Come again? I certainly hope so. I note that SO Restaurant has a very reasonable lunch menu and also offers up to 40% off for bookings made online for Monday, Tuesday and Wednesday.
SO Restaurant
3-4 Warwick Street
London
W1B 5LS
Tel: 020 7112 9046