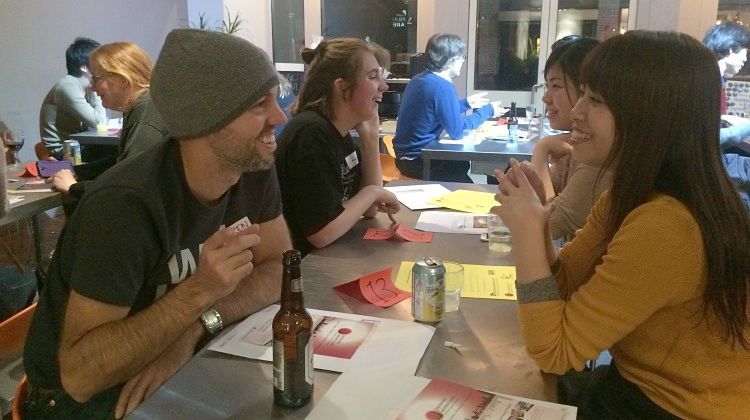 A winning combination! Enjoyed by all, our unique event on Friday, November 11th brought together 30 English and Japanese speakers.
The most important thing about learning a language is using it to connect with people. But so often, it can be tricky to simply go ahead and speak to strangers. That's why ZOOM Japan, JapaneseLondon.com and Sozai Cooking School put together a special evening featuring structured English and Japanese language exchange, along with a hands-on maki-sushi tutorial.
The first part of the evening focused on language exchange. It is a brilliant way to make sure that people actually practice their communication skills, whether beginner, advanced or anywhere in between! The format is that English and Japanese speakers are paired together to chat, changing languages halfway through their chat, and then moving place to swop conversation partners.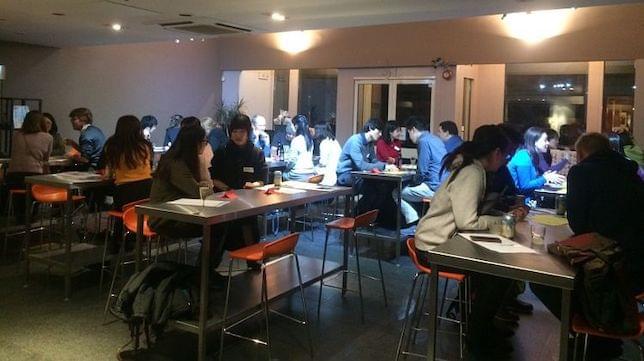 Vanessa Villalobos, the creator of website and tutoring service JapaneseLondon.com ran this first part of the evening, pushing attendees out of their comfort zone and around the room to chat! It was great fun – the only complaint was that there wasn't enough time to enjoy each conversation.
JapaneseLondon.com's Top 3 Conversation Questions:
What do you like about London? Japan? ロンドンの何が好きですか?日本では?[ロンドン ノ ナニ ガ スキデス カ?ニホン デハ?]
What do not you like about London? Japan? ロンドンの何が嫌いですか?日本では?[ロンドン ノ ナニ ガ キライデス カ?ニホン デハ?]
Do you have any recommendations of places to go in London? Japan? ロンドンでおすすめの場所はありますか?日本では?[ロンドン デ オススメ ノ バショ ハ アリマス カ?ニホン デハ?]
The ice was thoroughly broken by the second part of the evening. Everyone wanted to continue getting to know each other, and sampling the delicious ume-shu (plum wine), sake and beers available to buy at the bar. Sozai's cooking school's spacious room with high, narrow tables had made an ideal, informal and comfortable location for the language exchange, but now everyone moved to the back of the room to gather around for the maki-sushi cooking lesson.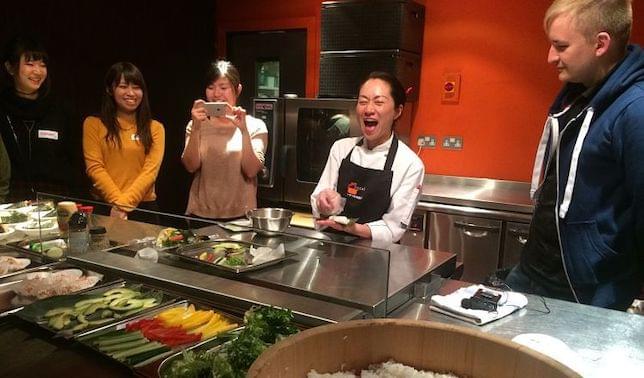 Sozai cooking school chef Izumi-san's (Izzy) enthusiastic style of presenting showed that 'temaki' (hand- roll) sushi is such an easy and fun idea for a party. Selecting your choice of the tasty ingredients and rolling them up without the need for a mat or other equipment is so casual and appealing. Stomachs were rumbling when presented with the array of colourful, fresh ingredients that we'd use. If you want to try making temaki sushi at home over the festive season, here are Sozai's recommended fillings:
Temaki Sushi Ingredients:
Freshly prepared sushi rice
Nori (seaweed) sheets, or soya-based alternatives
Seafood – crab sticks, tuna mayo, prawns
Vegetable sticks and slices – cucumber, lettuce, peppers, avocado
Seasonings – wasabi, mayonnaise, black and white sesame seeds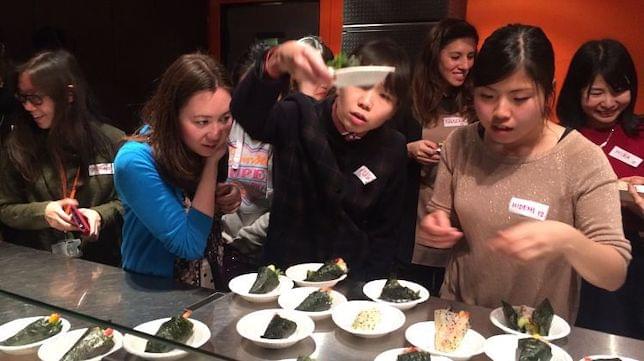 All the participants prepared a temaki roll, and placed it in a bowl which was numbered on the bottom, which corresponded to the seating numbers assigned to everyone. So it was very amusing to see who had prepared the sushi that you chose! By the end of the evening nobody wanted to leave!
Here is some feedback we received from participants:
I would have paid to eat more sushi.
6 minutes sessions were too short! But everything else was sensational!
It was great to talk to so many people and making sushi was fun.
I would like you to hold this event regularly.
It would be great to have this event once again with another recipe!
If you'd like to be notified of similar future events, please be sure to register for ZOOM Japan's mailing list here.