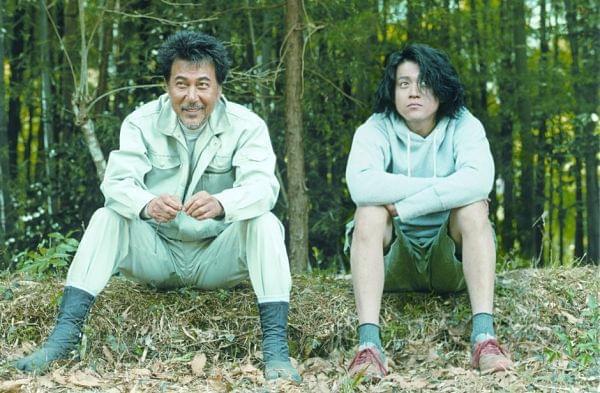 Kitsutsuki to Ame, 2011 / 129 minutes / Director and Writer: Shuichi Okita
Starring Koji Yakusho, Shun Oguri, Kengo Kora, Asami Usuda, Kanji Furrutachi, Tsutomi Yamazaki
Third Window Films are pleased to announce the DVD & BLU-RAY release on 28 Jan 2013.
Sometimes friendships come along at exactly the right time and teach us what is most genuinely needed to help us move on and grow. Sound syrupy? It is. Luckily, The Woodsman and the Rain serves up this saccharine stuff tempered with a fair smattering of silly surreal moments, nice nostalgic touches for those missing Japan, as well of lots of genuine laughs. Even at 129 minutes long, the family-friendly film (rated 12) doesn't feel forced or tiresome.
In the beginning, Katsu the lumberjack (Koji Yakusho) is lost in his own world. He's quite recently lost his wife, isn't getting on with his unemployed, waster son, and doesn't relish joining in friendly banter with work colleagues. Life tastes bland.
Driving to work one day, Katsu can't escape rescuing two stranded members of a film crew come to the village to shoot a zombie movie. He takes the painfully introverted director Koichi (Shun Oguri) for an assistant and treats him accordingly. Katsu is a real man who gets real man's work done, and scorns the entire business. Yet the gruff lumberjack gets reluctantly roped into helping the crew out.
The urgency and bustle of the film set is puzzling to him at first, but after seeing himself on film and garnering the praise of his mates, Katsu begins to warm to the filmmaking process. He manages to get the whole village involved as extras – in one fell swoop turning the population into the walking dead. It turns out to be a team-building, confidence-building exercise for all.
At the heart of the film though, is one particular friendship. The lumberjack and the young director are somehow holding back and not allowing themselves to enjoy their life. They want to escape what's being presented to them both literally and metaphorically; neither of them will touch the omiyage sweets offered (even though they're made with the 'best chestnuts'!). Something they will indulge in, however, is a visit to the onsen hot springs, and this oddly intimate setting is where their paths cross.
Opening up to the realisation that people sometimes just need some direction to help them to contribute, connect and be a part of something, Katsu and Koichi manage to bring the film together, as they both manage to get their acts together too. 'Rising to the challenge' as the foundation for a film plot may be a bit of a hackneyed old chestnut, but if you manage crack it successfully, you'll find it still tastes just as sweet.
Review by Vanessa Villalobos