Tom Smith is busy bringing awesome, fresh Japanese music to the UK. Not only does he have a super cool job, but he is also super friendly, and wants you to go right on ahead & talk Japanese music to him.
1. What do you do, and why?
I run JPU Records, a label releasing a mixture of kick-arse music from Japan across Europe on CD, DVD and MP3.
JPU Records currently has five bands under its banner. The biggest is a 'visual kei' artists called the GazettE. They mix elements of rock, metal and electronica together to produce an ever evolving sound. Every album is quite different from the last! Their newest release BEAUTIFUL DEFORMITY did pretty well in the UK too. In Japan it reached number five in the official charts, and over here it peaked at number 3 in the iTunes Metal Charts, and top ten in charts across Europe. The band conducted a world tour around the same time, the DVD of their adventures is out now too.
Our other artists include electronica heroes Boom Boom Satellites (their newest album EMBRACE features a great re-imagining of The Beatles' classic Helter Skelter), nu-wave pogo-punk squad POLYSICS, indie-rock sensation Ling tosite sigure and our newest signing; SPYAIR – they're a great fun pop-rock act influenced by Linkin Park and Michael Jackson. They have a number of high-tempo sing-along songs from anime too. The JPU Records' version of the album includes three bonus tracks too, of their biggest previously released songs, including tracks from the anime Bleach, Gundam and Gintama.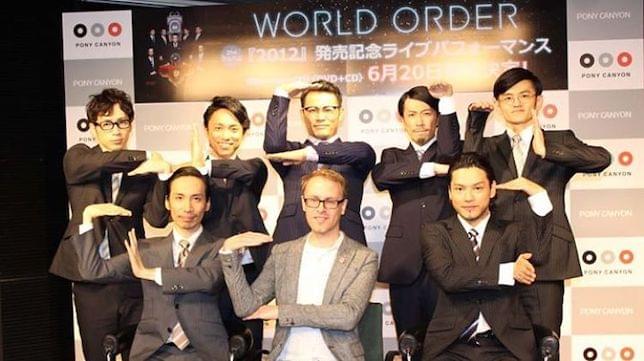 2. Why should people come along /buy the music?
It's entirely up to you, I just want to make music from Japan easier to access. Before JPU Records, a number of releases from Japanese acts had a massive price tag (£29.99 for an album? Nah thanks), and it was bothering me. The GazettE are a prime example. Their previous albums were released in the UK and Europe from a label in Germany, but that kind of price tag meant the music remained in a niche market for die-hard fans and illegal downloaders. And who can blame them. I wanted to scrap that, and get CDs out here for the same price as anything else in HMV. The first album from the GazettE we released was called DIVISION, and it sold 3-4 times more units than any of their previous albums. I like to think that's from just making it easier to buy, and at a price people are willing to pay. I also try to give JPU's albums bonus tracks not available on the original Japanese versions. So the POLYSICS, Boom Boom Satellites and SPYAIR albums all feature bonus tracks. All of our releases also contain an additional booklet with lyrics translated into English and Romaji, to help you sing along, learn Japanese or satisfy your curiosity about a song's meaning.
3. What are your top tips for attendees/people who are interested in your niche?
I think JPU Records is just one part of a much greater picture. I'd say Japan Underground is one of the first steps. Come and see some bands. Between sets I'll DJ a number of different tracks from Japan, and if you hear something you like, come over and have a chat to me about it! I'll tell you the song, similar bands, then go home and have a listen on Youtube and see what you think. Hopefully you'll find something you like, and then the fun starts and you'll start to uncover more and more. And before you know it you're hooked too 🙂
4. What's your favourite Japanese thing in London?
The Pipeline (now closed), near Liverpool Street Station. It's not even Japanese, it's a Swedish rock bar, but the kitchen does a mix of Japanese and Japanese fusion food. It's also the venue I use a lot for Japan Underground, and there's a language exchange event there once a month for English and Japanese. I probably spend more time there than anywhere else in London. Had a cup of tea with Tomoyasu Hotei there once too, which was nice!