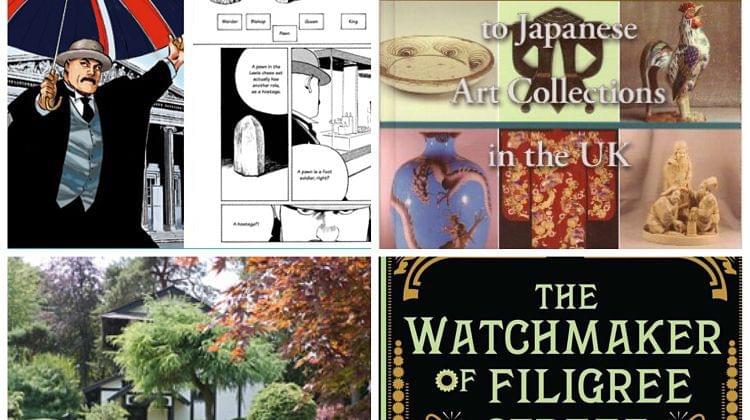 JapaneseLondon.com's Vanessa picks the top 4 must-read books for Japanophiles based in the UK!
Professor Munakata's British Museum Adventure (amazon associate link). This marvellous manga (comic book) stars the famed Professor Munakata, the fictional Japanese detective. He is visiting the UK and gets embroiled in a mystery involving many treasures we host in the British Museum, including the Lewis chessmen and the Rosetta Stone. The controversial nature of some items is dealt with sensitively.
You'll want a copy for yourself and the book would be the perfect omiyage gift for Japanese friends!
A Guide to Japanese Art Collections in the UK (amazon associate link). Did you know you can find amazing examples of Japanese art all around the UK, not just in London?
This book, published in 2004, is comprehensive guide to some 180 important public collections Japanese art in the UK. Written by a Senior Curator of Asian Art at the V&A museum, this book may not be recent, but it is still a great find.
Visions of Paradise: the Japanese Garden in the UK by the Japanese Garden Society – This superb 80 page coloured book includes the way in which we have adapted ideas from Japan and incorporated those into the Japanese gardens seen in the UK. A glossary of significant Japanese gardens in the UK is provided. Booklets may be ordered from the JGS (in the UK only) for £6.15 incl P&P.
The Watchmaker of Filigree Street: The International Bestseller (amazon associate link) by Natasha Pulley – Beguiling, elegant historical novel released in 2015, written by a Daiwa scholar on her year in Japan. Set in 1884, in London & Japan, the story offers fascinating reference to the Japanese show village in the Great Exhibition in Hyde Park, as well as the social impact of westernisation in Japan. I loved the accurate details of life at this time, with a whimsical sprinkling of a kind of steampunk magic-realism.