Tea ceremony? Flower arranging? Taiko drumming? London might just be the best place outside of Japan to learn a traditional art or craft! Interest in time-honoured Japanese arts continues to escalate; there's just something so refreshing about the need to be present that is embodied within traditional arts. Instant mindfulness!
These groups and foundations will put you on the right track:
Dance
London Okinawa Sanshinkai – is a collection of people who are enthusiastic about Okinawan folk and classical music and traditional dance.
Amongst the members are Okinawans, mainland Japanese and several other nationalities. Anyone of any nationality and musical ability is welcome to join weekly practice on Saturdays at SOAS. There is also an annual 'Okinawa Day' held in the summer, at Spitalfields Market, London.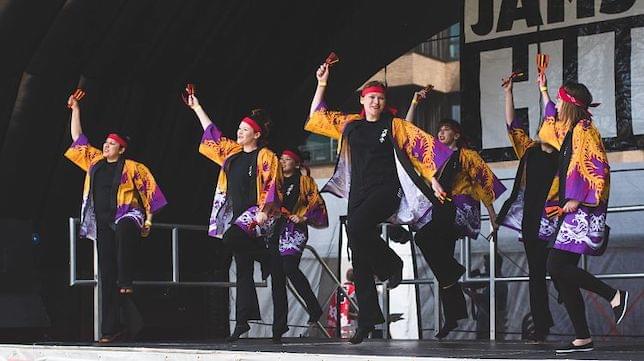 Yosakoi London Temuzu– a relatively new Japanese dance craze (the first performance was in the 1950's), Yosakoi combines traditional movements with modern music. It's massively popular and highly sociable.
The awesome Dipika Soni has created a highly successful group based in London. You can join them, or see their performances at Japanese festivals, in London or further afield.
Wakayagi Ryu – run by Kayono Wakayagi near Highgate station, 'Nihon Buyo' is a traditional Japanese dance which originated from Kabuki theatre.
Kabuki is a classical Japanese dance-drama originating in 1603. This elegant style is practised wearing yukata or kimono.
Flower Arrangement
Ikebana International– the London chapter is the oldest society for Japanese flower arrangement in the UK. This worldwide non-profit making oraganisation's motto is 'friendship through flowers'.
Martial Arts
Jikan Dojo – is a community club teaching authentic traditional Japanese martial arts in Leytonstone, East London. These include karate, jujutsu (a Japanese system of unarmed combat and physical training) and swordsmanship.
Kinkan Dojo – in Ilford, and Hornchurch (Essex), training is based upon two traditional martial arts, Ninpo (more commonly known as Ninjutsu) and Jujutsu.
The Budokwai is the oldest Japanese martial arts club in Europe. In the heart of Chelsea, the Budokwai offers training in Judo, Jiu-Jitsu, Karate and Aikido (uses locks, holds, throws, and the opponent's own movements), as well as Hatha Yoga, and a babies and toddlers group.
British Shorinji Kempo Foundation – with locations all over London, this traditional Japanese martial art combines effective self-defence techniques with a practical philosophy based on Buddhist principles.
The training aims to develop the potential of the individual and create physically and mentally balanced people.
Origami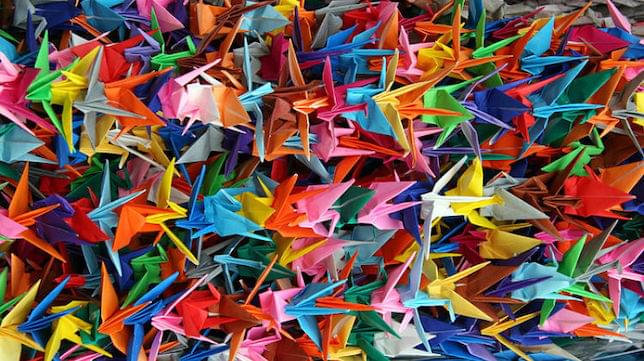 The British Origami Society – visit the website for the centre of all things origami in the UK. There's something for any level of interest: tips, techniques and a gallery – as well as details of the meeting, newsletter and bi-monthly magazine.
Printmaking
East London Printmakers is a not-for-profit, artist run studio based in Mile End. As well as 'open access' sessions for experienced printmakers, they offer daytime and evening courses in printmaking at beginner and intermediate levels.
Check out the site for details of Japanese Woodblock, Japanese Vinyl, and Mokulito ("wood lithography" in Japanese) courses.
See above (the top) for a photo of some of the prints made in the 'Japanese Vinyl' short course I attended. I did the sun with rays, and my husband did the lion / dragon image. Absolutely brilliant course, loved it.
Taiko Drumming
Taiko Meantime are Taiko Drumming group based in Greenwich, established in 2001. The group does tours, corporate training, and workshops for the general public – usually just outside of London.
Tamashii Taiko also offer workshops and scheduled performances, as well as classes in East London.
Tea Ceremony
Urasenke Foundation Chado group – The London branch of Urasenke offers private tuition as well as special events and workshops. The main aim is 'to introduce and spread knowledge of Chado, The Way of Tea, a Japanese tradition with more than 400 hundred years of history.'
The British Museum offers a free demonstration of the Japanese tea ceremony in the Mitsubishi Corporation Japanese Galleries, given by members of the Urasenke Foundation London Branch.
Held on Fridays at 2pm and again at 3pm, usually twice monthly, 'The Way of Tea' demo and explanation in English is very popular – arrive early! Check when it's on – see The British Museum website's 'What's on' section.
And More
CityLit – offers an eclectic range of Japanese language and culture courses, long and short. In 2019 there was a 'Japan Season', with diverse art tasters such as 'nuno' felting' and 'shibori into stitch'.
Likewise, you can find classes of humanity & wellbeing, including the trendy 'shinrin-yoku' (forest bathing), shiatsu, calligraphy and more!
Whatever your interest, private Japanese language lessons 1-1 with a native speaking Japanese tutor will give you an awesome insight into the culture. Yes! I want to find out more about Japanese lessons!