One of my happiest memories is a solo trip to Kyoto one year in early autumn, where I borrowed an old 'mamachari' (slightly cronky city bike) from the ryokan, and pedalled around sightseeing.
For some reason lost in time, I choose a bright blue toe sock and flip-flop combo as I toured the city, but nonetheless, touring Kyoto as solo traveller was incredible.
The gorgeous gardens I saw gave me such a sense of serenity that I have always tried to re-capture by visiting Japanese gardens here in the UK.
Fortunately, over here we do enjoy a climate conducive to re-creating Japanese garden landscapes, and we certainly have had a a good crack at it over the years!
Read on to learn more about Japanese gardens in London, and all around the UK.
Top 5 Japanese Gardens in London
1. Kyoto Garden in Holland Park
I met some fellow ex-JET teachers (Japan English Teaching programme) in the park one spring, onigiri rice balls & blue tarp at the ready, hoping to enjoy a 'hanami' picnic. Don't make the same mistake – it isn't allowed  (fair enough).
After all, the outstanding 'Kyoto Garden' in Holland Park has got to be the top destination in London for Japanese gardens enthusiasts & it's really rather ravishing.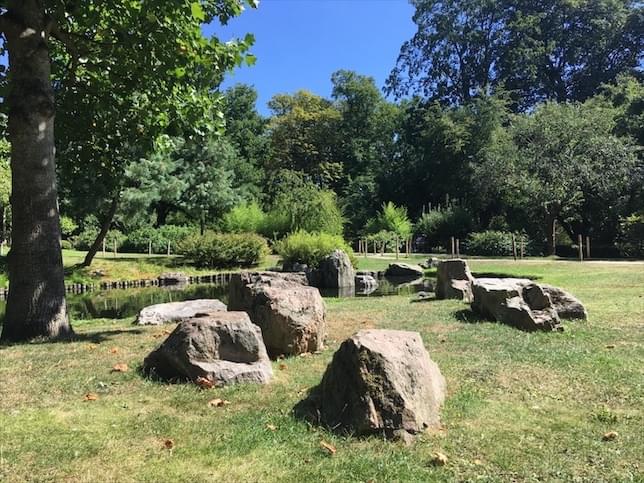 The carefully-tended landscaped Japanese garden was donated by the Chamber of Commerce of Kyoto in 1991 to commemorate the long friendship between Japan and Great Britain. It features a tumbling waterfall as a centrepiece – it's so scenic in all seasons.
The Fukushima Memorial Garden was opened in July 2012 with an official ceremony. It is a symbol of appreciation from the Japanese people, to the British people, for their support following the Great Tōhoku Earthquake which struck on March 11, 2011 in northeastern Japan.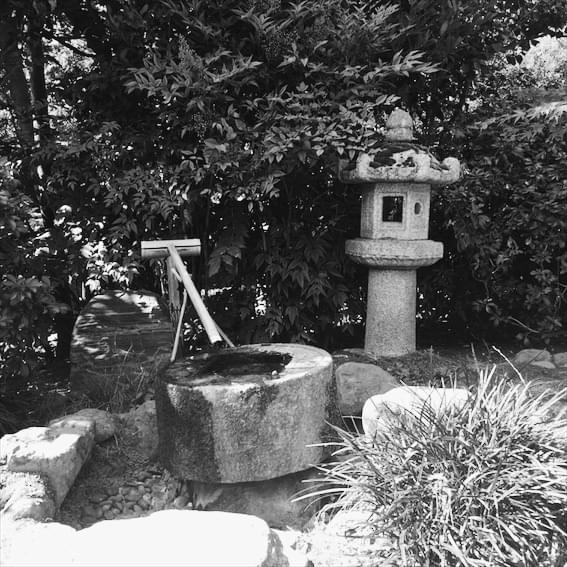 There are Japanese maple trees, traditional stone lanterns with trickling water, a rock garden to contemplate, hidden nooks with benches, wandering peacocks, and koi carp drift lazily around the pond. Relax on a bench to enjoy the peaceful oasis!
2. Japan-Inspired Features at Kew Gardens
Kew Gardens is an outstanding destination, starring several Japanese and Eastern architectural elements which add interest to their glorious gardens.
'Chokushi-Mon' in Kew, set in the Japanese landscape area is a 4/5th replica of the karamon (gate) of Nishi Hongan-ji in Kyoto – 16th Century style of 'Momoyama', with finely carved woodwork. It was moved to Kew from Hammersmith Park in 1911.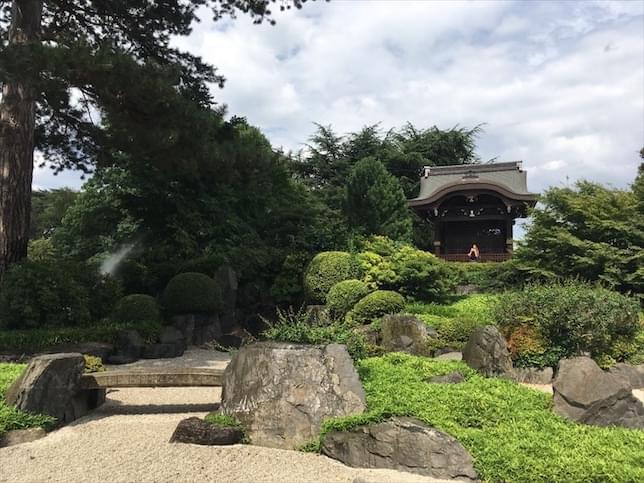 The garden's Great Pagoda was finished in 1762, and is an interesting example of the time's fashion for 'Chinoiserie'. It has been loved and loathed over the years, presenting restoration – as well as safety – challenges. Once famous for its exotic, heavy, and eventually rotting wooden dragons, they had long since been removed.
Following a restoration by Historic Royal Palaces the dragons are now back in place (due to the wonders of 3D printing! Read the fascinating 'Ian Visits' blog here). And what's more, the pagoda is open to the public in the summer months.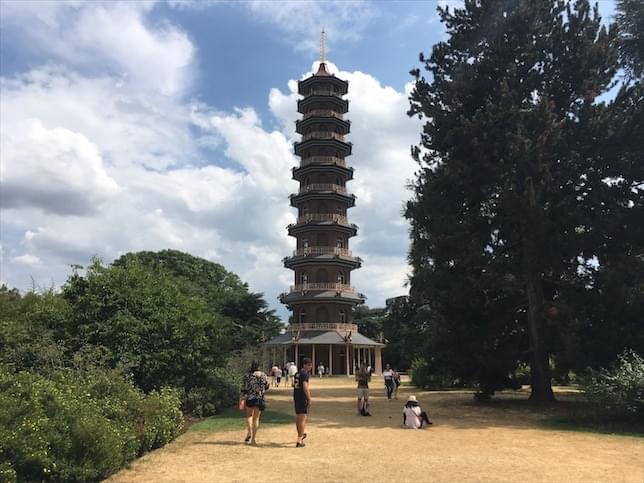 A traditional Japanese 'Minka' farmhouse was painstakingly imported from suburb of Okazaki City, and now stands within a gently rustling Bamboo Garden. These features and buildings serve as a backdrop to the countless Japanese plants and flowers that can be discovered all over Kew.
3. Garden of Peace in Hammersmith Park
First opened in 1950, the garden in Hammersmith Park, contains a remnant of 'Garden of Peace' from the 1910 Japan-British Exhibition.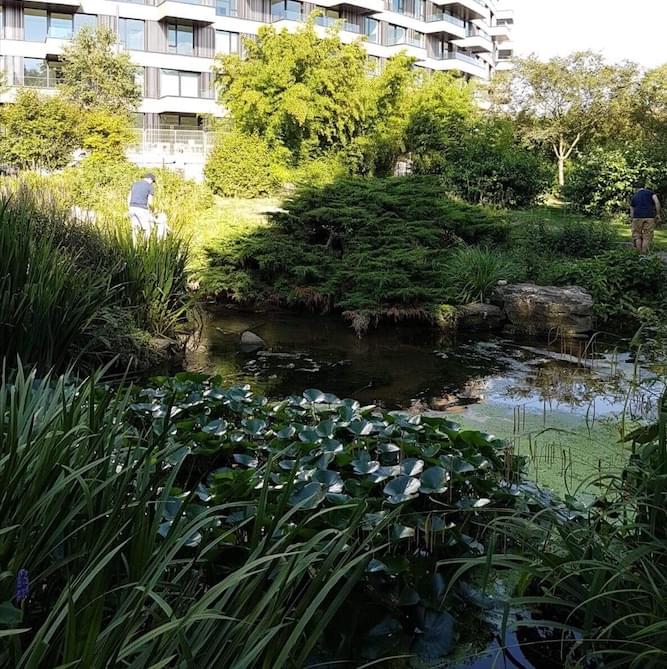 In 2018, stone lanterns were added to the entranceway to commemorate the park. The stroll garden has been restored, and there is a rock garden, pond, and forest garden.
4. The Japanese Island Garden in Regent's Park
This calming Japan-inspired garden near Queen Mary's Rose Gardens was created in about 1930, and offers a lovely tranquil setting. There is a waterfall cascading down to a pond, and a small bridge that you can cross over.
There are places you can sit around the circular stone path, and stopping to listening to the waterfall whilst viewing the water lilies creates a lovely tranquil moment of calm in the city.
There are also other features of note, such as stone lanterns and a bronze flying eagle statue.
5. SOAS Japanese Rooftop Garden*
A sublime space in the middle of the metropolis can be found in the Japanese Rooftop garden on top of the Brunei Gallery; a place for quiet contemplation and cultural events.
Dedicated to forgiveness, the garden is free to enter and is normally open to the public when the Brunei Gallery is open (Tues-Sat 10.30am – 5pm). The gallery is located at the School of Oriental and African Studies (SOAS), near Russell Square.
Other Japanese gardens in the London & South East area include:
Japanese Gardens in the UK – Outside London
The Japanese and the British both share a deep-rooted appreciation of gardens, and Japanese gardens are to be found all over the UK.
Tatton Park Japanese Garden
One of the first gardens in the UK was 'almost certainly' inspired by the 1910 Japan-British Exhibition at White City. Tatton Park in Cheshire has a Japanese garden in a 'tea garden' style.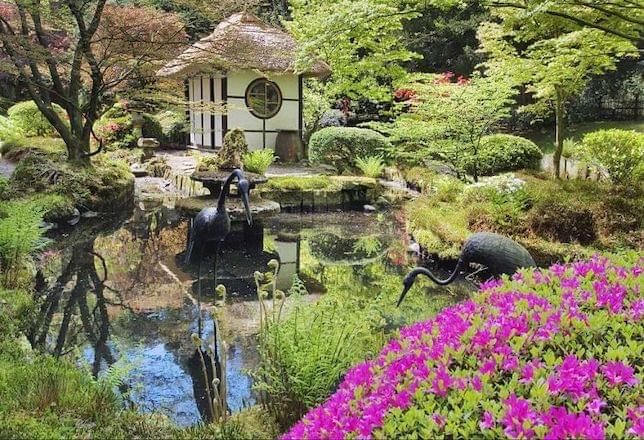 All things Japanese seemed fabulously exotic to the British public in the Victorian and Edwardian eras, and this Japanese garden with its Western aesthetic will have been the height of fashion.
Boasting a Shinto shrine and various authentic artefacts, it is reputed to be "finest example of a Japanese Garden in Europe."
The garden can only be viewed from the perimeter except during tours, given on Wednesdays and Saturdays at 1.20pm and 2.20pm for a small fee in the high season. Visit the Tatton Park website for details.
Pure Land Japanese Garden, Nottinghamshire
Probably one of the most unusual Japanese gardens in the UK must be the 'world's first crystal garden' in the Pure Land Japanese Garden in Nottinghamshire, which was created by the head of the temple, Maitreya, and opened in May 2013.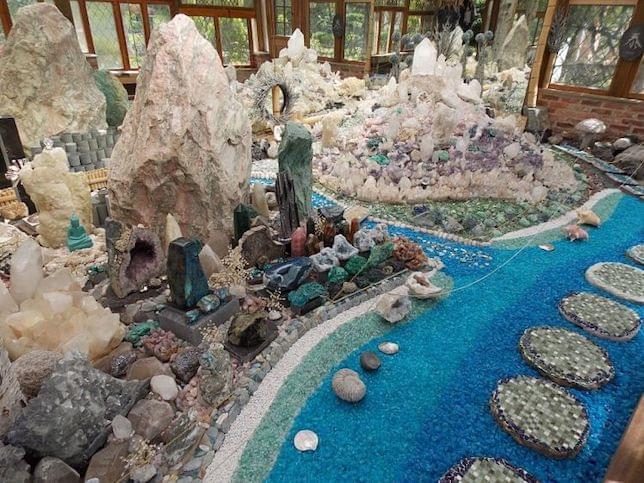 This stunning creation has thousands of crystals which has positioned to represent facets of nature, such as rivers and mountains, and it is symbolic of how beautiful the universe is.
The crystal garden is contained within their more traditional Japanese garden, which features 'a traditional repertoire of garden elements such as water, carp, bridges, moss, bamboo, evergreens, maples, cherry, and stone lanterns'.
Open to visitors from March, there is an entrance fee. In August & September, you can also experience a magical lantern-lit garden experience, evocative of a bygone age in Japan. Check the website for more info.
List of Japanese Gardens in the UK Open to the Public
Japanese Gardens in the Republic of Ireland
Japanese Gardens in the Midlands & East Anglia
Japanese Gardens in Northern England
Japanese Gardens in Scotland
Japanese Gardens in the South West
Japanese Gardens in Wales
Can't get enough of Japanese Gardens?
Founded in 1993, the Japanese Garden Society (JGS) brings together people interested in the gardens of Japan and Japanese gardens in the UK. Members enjoy garden visits, a journal, newsletter and workshops and talks.
The Japanese Garden Society's publication 'Visions of Paradise' is based on the society's exhibition 'Visions of Paradise – the Japanese Garden in the UK', with contents covering the style and design of gardens in Japan; the history and development of gardens in the UK; 'Cultural Borrowing'; and a list of gardens open to the public in the UK.
An honourable mention should be given to the website GreatBritishGardens.co.uk – which offers a nice round up of their favourite 15 Japanese gardens in the UK.
Love Japanese gardens? You might like this article too:
How to Enjoy Cherry Blossom in the UK
Learning the Japanese language? Did you know JapaneseLondon.com connects learners with 1-1 native-speaking private Japanese tutors, online & right here in London? Learn more here.