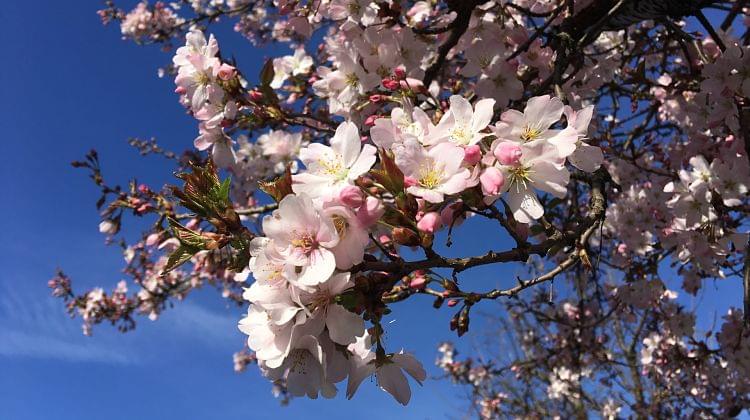 Admiring the springtime blooms is a bit of a national obsession common to both Britain and Japan. Cherry blossoms are being rapturously received in the UK in 2023 as we speak, and the first wave of cherry blossoms will be getting started in Japan.
Here in Britain we are known for seasonally swooning over daffodils, snowdrops and glades of bluebells, but we do also proudly boast a growing number of cherry trees – both imported Japanese and wild.
Why Do We Love Cherry Blossoms So Much?
In Japan cherry blossom is known as 'sakura' 桜 and it holds a very special place in people's hearts. So much so that it is the national flower, and has inspired poets and creatives since ancient times. Appreciating the sakura is literally known as flower viewing, 花見 'hanami' in Japanese, and people gather underneath trees to drink and picnic.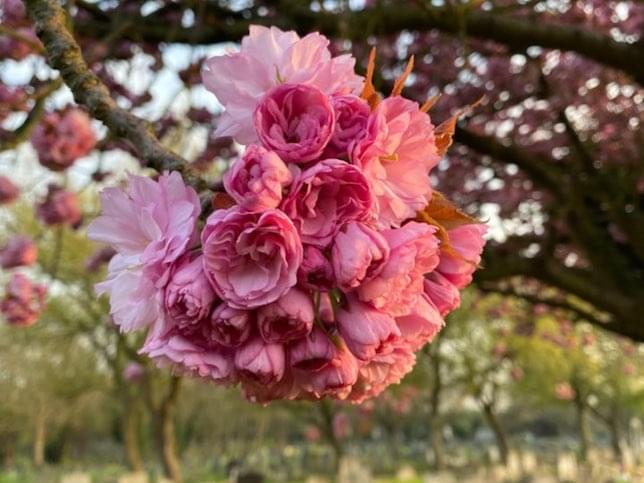 To avoid missing out there is a national Japanese 'blooming forecast' to be found in newspapers and on television, which charts the expected progress of the blossoms. There are lots of recommended destinations for spectacular cherry blossom viewing in Japan on the Japan National Tourist Organisation website.
Unfortunately nothing quite so comprehensive as a forecast existing in the UK, but the National Trust's #BlossomWatch hashtag on social media will point you in the right direction. Different varieties bloom at different times between late February and early April, with mid-March to mid-April being the prime time.
But hey – part of the magic of the cherry blossom is its unpredictability – the adventure in searching it out as it varies in from year to year!
But people don't just love sakura because it's pink & fluffy. To celebrate the fleeting, frothing beauty of the cherry blossom trees is to recognise that everything in existence is temporary. One of those 'lost in translation' Japanese words that sums up so much, so elegantly, 'mono no aware' 物の哀れ refers to the bittersweet awareness of the ephemeral nature of all things.
Although springtime weather tends to be less settled here in the UK, we can still enjoy this cherrific custom – if we time it right and the petals haven't all blown away! Read on to find out how and, importantly, where to enjoy the season.
Top 10 London Parks for Cherry Blossom
Regent's Park – Chester Road entrance, find an avenue lined with old, tall cherry blossom trees, also, Avenue Gardens
Greenwich Park – you'll find lovely flower arches behind the cricket pitch, on the avenue leading to the Georgian villa, known as the Ranger's House.
Kew Gardens – Cherry Walk begins at the Rose Garden at the back of Palm House with an avenue of Japanese cherries leading to Temperate House
Alexandra Park – fantastic views towards the City, framed by cherry trees
St James's Park – Storey's Gate, plus others by the lake
Kensington Gardens – Lancaster Gate, and a patch near the Albert Memorial
Kyoto Garden, Holland Park – there is a koi-filled pond with a bridge over, and some cherry trees complete the look. Just stick to the benches (we got told off for spreading a picnic blanket)
Battersea Park – on the aptly names Cherry Tree Avenue
Queen Elizabeth Olympic Park – The London Blossom Garden, opened in 2021 as a 'living memorial' to the Coronavirus pandemic with 33 blossom trees representing each London borough. Close to the Timber Lodge Café
Tavistock Square Gardens – a cherry tree stands as a Hiroshima memorial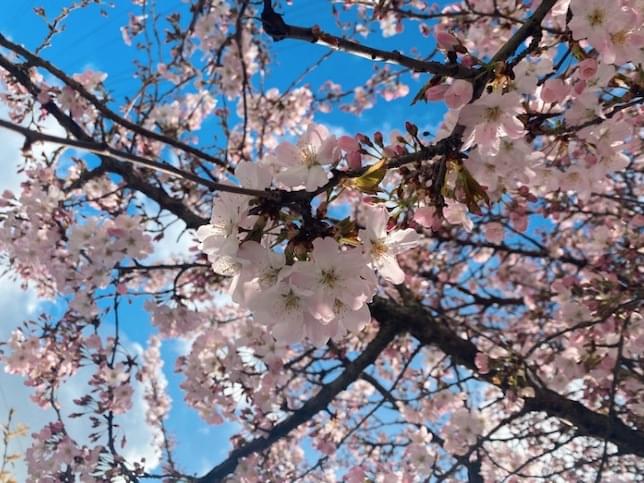 Cherry Blossom Trees on London Streets
Are there any cherry trees on the streets near you? We are lucky enough to pass five trees – all in bloom in differing delicate pinks) on our three minute walk to our local primary school, right here in leafy old Tottenham (see pic below).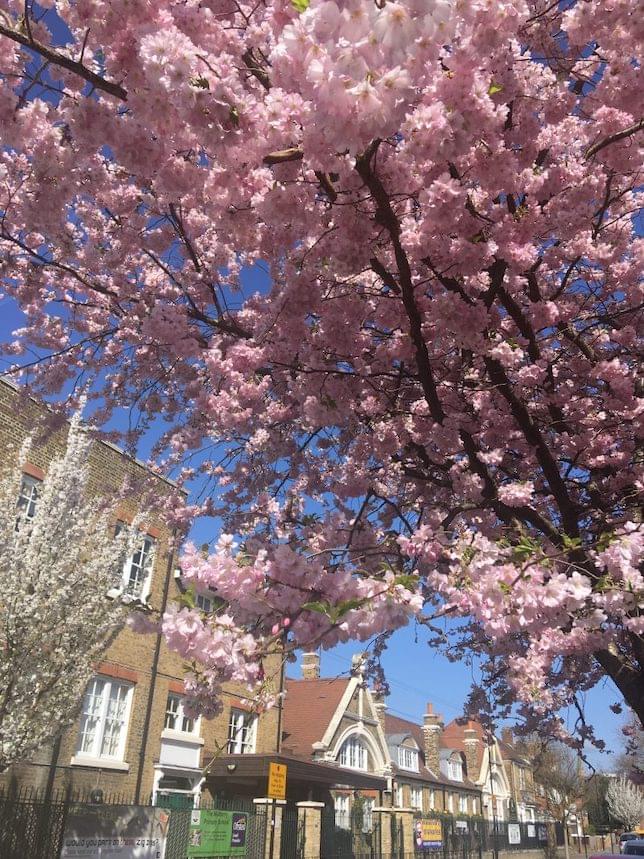 Crouch End – Near Hornsey Town Hall is Cecile Park, a road lined with pink blooms.
Herne Hill – You can find Yoshino trees on Stradella Road and Winterbrook Road, off Half Moon Lane.
Notting Hill – Many residential streets boast cherry trees – Stanley Crescent, Boltons, Little Boltons.
St Pauls Churchyard – not a street as such, but not exactly a park either.
Swiss Cottage Station – between Swiss Cottage Station and the Swiss Cottage Library.
If you want to get to know your local street trees of all types, the fortuitously named tree expert Paul Wood has compiled a smashing guide to street trees in London, including tips on where to spot cherry blossom on urban streets. London's Street Trees 2020: A Field Guide to the Urban Forest (amazon associate link).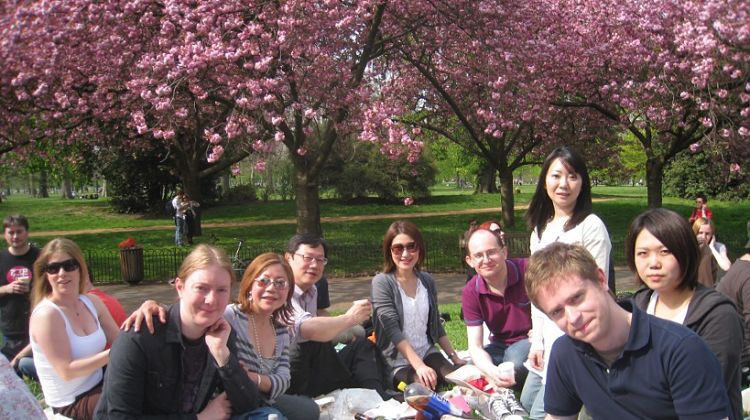 Cherry Blossom Viewing 'Hanami' Parties
If you like to enjoy your blooms with others, join a hanami gathering in London.The Japanese Conversation Group (affiliated to The Japan Society London) hold an annual hanami event, usually under the trees in Kensington Park. Naturally, the date changes every year, so check their website / subscribe to their mailing list for details.
The London Japanese Conversation Meetup Group also usually holds an annual hanami event in Regent's Park. Check their meetup profile for updates.
Cherry Blossom in the UK
Outside of London? From RHS Wisley in Surrey, to Alnwick in Northumberland, to Tatton Park in Cheshire, to the special Hanami event at Brogdale Farm in Kent, it is worth checking out if there is a particular place to catch sakura blooms near you!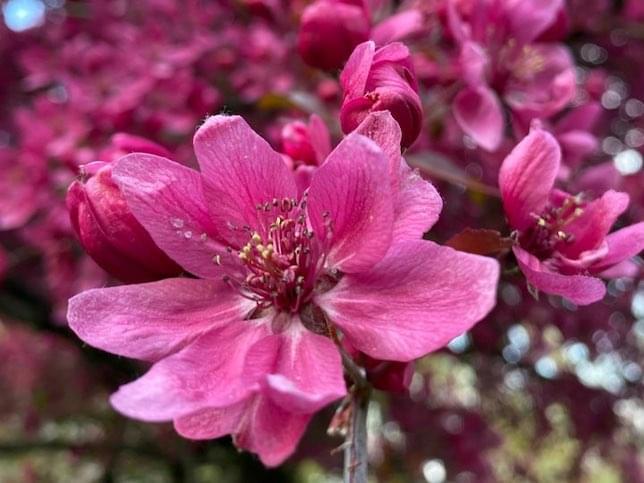 The National Trust – launched #BlossomWatch in the UK to get everybody connected to nature, and to track and chart where blooms can be found. The conservation charity, which first launched the initiative in lockdown, wants to make it an annual tradition, asking people to share their photos on social media using the hashtag.
The Sakura Cherry Tree Project – planted approx. 6,500 trees across the UK in 2021 to celebrate UK-Japan friendship and cooperation. The trees are sponsored Japanese individuals and businesses and can be found all over the UK. 125 trees were planted in the Royal Parks in London.
Love Japanese gardens? There are lots of lovely Japan-inspired gardens all over Britain. We are so lucky! I'd recommend you check out this article for more on the topic (including a list of Japanese gardens in the UK open to the public):
Explore Britain's Best Japanese Gardens
Hey! Thanks for reading! Are you learning the Japanese language? Did you know JapaneseLondon.com connects learners with wonderful 1-1 native-speaking private Japanese tutors? Learn more here.