'My favourite day of the school holidays' wrote my 5 year old boy, 'was using the Japanese Washlet toilet at the Japan House. It squirts water at your bumhole and then dries it with hot air.'
Indeed, Japan House, High Street Kensington, is fun to pop in before a romp in Hyde Park (not too far to the Princess Diana playground – the one with the Pirate Ship to play in), but be warned that most of the ground floor is a shop / show room for gorgeous, expensive and often breakable Japanese products. There are some splendid stationary products for children which would make great gifts (see below).
Japan House offers a robata (charcoal grill) restaurant 'Akira' – and older children would enjoy watching the flames flaring up in the open kitchen. However, it isn't really suitable for young kids. But hey, there's a Wasabi next to High Street Ken station for your cheap and cheerful sushi fix.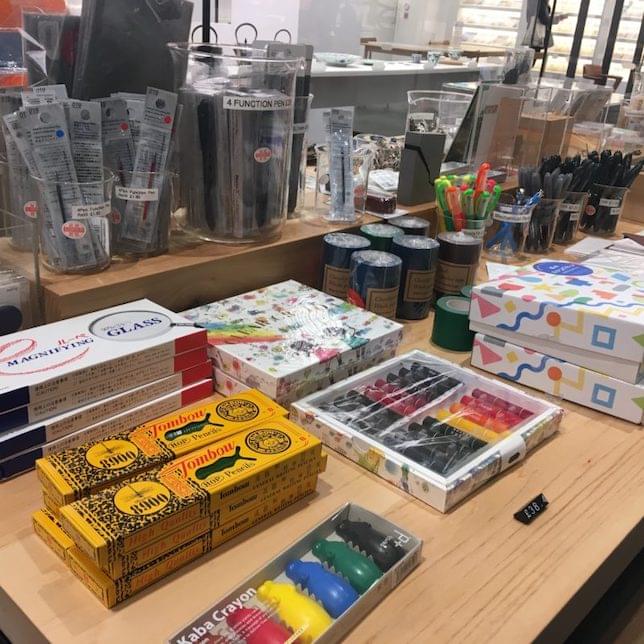 SO where else can you find Japan-related things to do and see for children, in London? Here, we've rounded up lots of brilliant family-friendly ideas for you to explore.
Japan for Kids in South Kensington
The Victoria and Albert Museum, South Kensington has an incredible collection of objects in the The Toshiba Gallery of Japanese Art. The carefully-curated objects are so fascinating and varied, from rice-cookers to samurai swords, there's bound to be something to capture your little one's imagination. Personally, I remember being captivated by the tiny, exquisitely detailed 'netsuke' carvings when I was a child. For an overview of the collection, visit this page to watch a video about the V&A's Japanese collection.
After the V&A, you can shake the kids up by taking them across the road to the Natural History Museum. The 'Earthquake' section features a simulated earthquake in a replica Japanese supermarket! Disclaimer: he LOVED it BUT nightmares followed!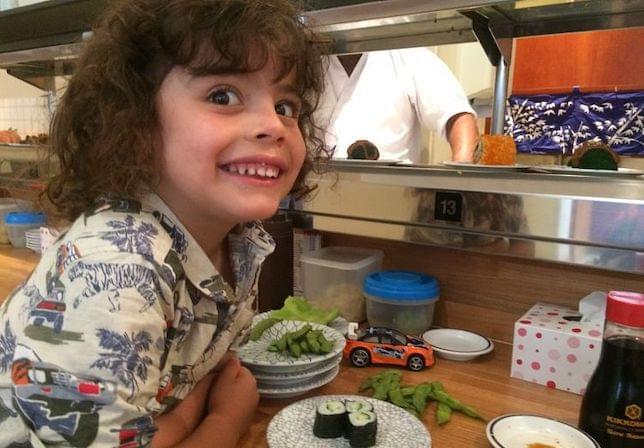 Also in South Kensington, Kulu Kulu sushi offers conveyor-belt sushi (there are also branches in Covent Garden & Soho – do check the opening hours of locations carefully before you go). It's great fun for kids to see all the varieties of sushi trundle enticingly past, and you might even be able to convince them to try something other than the eternal kids' favourite 'kappa maki' (cucumber rolls)!
Top tip for tired parents: If matcha (green tea) ice cream is your thing, sneak over to the wonderful Tombo cafe across the road for a splendidly spiraling soft serve – it's nicely bitter and brilliantly green.
Japan for Kids at the British Museum
The British Museum is running a Manga exhibition from May 23rd – August 26th 2019. 'Enter a graphic world where art and storytelling collide in the largest exhibition of manga ever to take place outside of Japan.' They say, and I quote. Entry is a little bit steep, with tickets for at Adults at £19.50, BUT under 16s enter FREE.
Before you visit, why not read 'Professor Munakata's British Museum Adventure'? The perfect intro to manga, as well as the treasures of The British Museum, the fictional super sleuth ethnologist unravels a dastardly criminal plot. Written by Hoshino Yukinobo, one of Japan's leading manga artists, the gorgeously rendered black and white manga illustrations make the book suitable for older kids – and adults.
The Mitsubishi Corporation Japanese Galleries (permanent displays) at the British Museum are always interesting. Boasting a proper Japanese tea-house with very popular 'The Way of Tea' Japanese tea ceremony demonstrations by Urasenke Foundation London Branch on Friday afternoons – although not every week – be sure to check the British Museum's events calendar. (The Way of Tea events can be very crowded – arrive early to snag a seat at the front & do keep in mind this slow-moving ceremony is more suitable for older children).
Japan Shops in London for Kids
The Japan Centre is not a cultural centre, but a large shop with a focus on Japanese food and books. It has recently opened a new and improved location on Panton Street, in Soho, whilst keeping their previous Shaftesbury Avenue location open as a 'Ceramics and Sushi' shop. Top Tip: There's a small, but handy Japan Centre in Westfield Stratford to grab your snacks for picnics in the Olympic Park too.
Kids do enjoy discovering weird and wonderful Japanese snacks. Sweet potato flavoured KitKats? Totoro bread? Anpanman snacks? There's also an onsite restaurant in the Soho branch that seats 100 for a quick sushi fix (and a hot counter for karaage fried chicken, potato croquettes and other delights).
Recognising the growing interest in 'meaningful items' with links to Japanese culture, take a look at Japan Centre's 'Japan Fan' section (no it's not referring to uchiwa – 'fans' that cool you in the summer, but rather, fans of Japan or 'Japanophiles'!).
Hello Kitty fan on your hands? Art Box, located near Covent Garden, has a wide collection of Japanese stationary and plush toys, all bedecked with the classic Hello Kitty, as well as the latest popular characters, such as 'Gudetama' (a depressed, lethargic fried egg). This type of stationary shop can be very addictive!
Japan Craft at Camden Lock is a veritable treasure trove of covetable Japanese items that will appeal to kids.
Japanese Cinema for Kids
Don't forget 'Pokemon: Detective Pikachu' – released May 2019 is a big hit & showing all over the UK.
Prince Charles Cinema, just off Leicester Square, often shows popular films for children, such as their 'Studio Ghibli Forever' series. Catch anime favourites such as 'Akira', 'Spirited Away' and 'Princess Mononoke'. Some films are dubbed into English, some aren't, depending on whether you prefer to hear the Japanese language or not.
Top Tip: If the kids are too young to easily read the subtitles, it's best to go for dubbed.
Japanese Cafes in London for Kids
Considerably less central, but certainly worth a mention is Toconoco Japanese Cafe in Haggerston. Roughly translated as 'kids on the floor', this lovely canal-side cafe has a playroom, riceballs and noodles for the kids, and well as interesting drinks for the grown-ups such as black sesame lattes.
Necco Japanese Cafe and Bar in Exmouth Market is worth a look in too. Necco means cat in Japanese, and there is a cute and friendly theme. Necco offers fresh cakes and tea, as well as set lunches and 'tapas' style dishes which allow sampling in small sizes.
In Japan, all children are encouraged to learn origami – the art of folding paper into an endless variety of shapes. It's great for improving fine motor skills – and patience! You can find lots of info, as well as UK-wide local meetings on the British Origami Society website. London area meetings are held on the 2nd Saturday of each month from 14:00 to 17:00 The Festival Hall , Southbank – 1st Floor Foyer. Anyone interested in joining in is more than welcome! Contact: Sharon Turvey.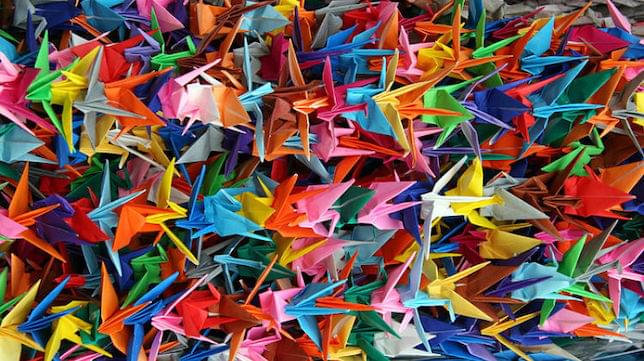 Japanese Festivals in London Are Fun for Kids
Festivals can be entertaining (if hectic!) family fun. Hyper Japan festival is usually held twice a year, in July and November (the 'Christmas' show), and celebrates Japanese culture of all kinds, from traditional to modern, with a variety of shows and live music, food stalls, competitions, exhibitions, displays and workshops.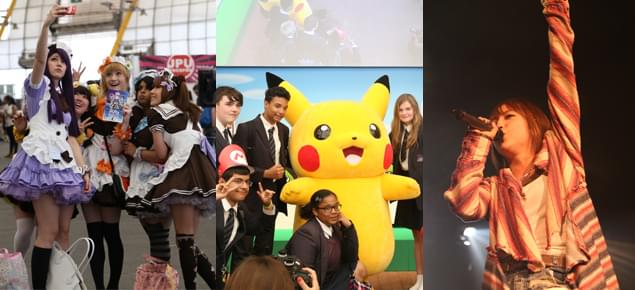 MCM Comic Con London is usually held in May, and is an exciting destination for fans of manga comics and anime films, and is very popular with 'cosplayers' (people who dress up in costumes like their favourite characters).
The Japan Matsuri has been held annually in Trafalgar Square in September for quite a few years running. This busy festival is better for older children than younger, due to the crowds. It features food stalls with long queues and an enormous main stage.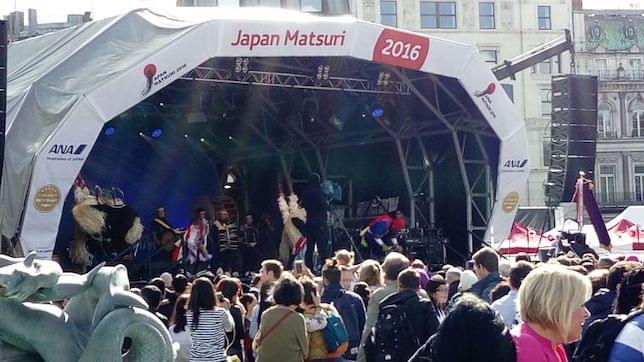 Parks are always a good option with children, and there are a variety of parks with Japanese gardens, in London and all over the UK. Read our article 'Explore Britain's Best Japanese Gardens' here for more info.
Do your kids love everything Japanese? We have friendly and fun Japanese language & culture tutors for children aged 4 and up. Contact Vanessa here.