Learning Japanese? Totally new to it? Or coming back after 'life got in the way'?
Wherever you are on your learning journey, we have a Japanese tutor to guide & gently keep you accountable! Click below to learn more! 👩🏻‍🏫 🔜
Japanese Lessons for Adults in London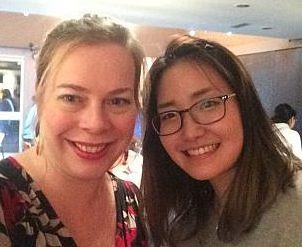 It was an September evening, and I was sitting at a desk in a Japanese language school, with my 'Minna No Nihongo' textbook, dictionary, notebook and pens laid carefully in front of me.
It was my first time in this class. Having been placed in a lower level (which I'd found too easy), I had insisted on moving up to this, more challenging, Japanese class.
Suddenly, I realise the teacher is looking at ME. She has asked a question and is waiting for some kind of intelligent response. My mind is as blank as my brand new notebook.
Tears stung my eyes and my cheeks blazed. I tried to look nonchalant. The other students turned to gawp as the silence dragged on. Days – years, possibly – passed in this moment.
I never did go back to that class. But after I scraped up my pride up off the floor, I realised a deceptively simple truth:
🗣️ You learn to speak Japanese by actually speaking Japanese.
A GROUP LESSON NOT THE ONLY WAY to learn a language, and for some learners who hate being put on the spot (like me), it's simply NOT the BEST way.
That's why we offer 1-1 private lessons with friendly, qualified, native-speaking Japanese tutors in London, and online.
Click the button to arrange 👇 your 20 minute consultation with Vanessa.
5 Reasons to Learn Japanese with a Private Tutor
✔️ Group lessons can be hard to keep you with, self-study can be lonely (and you know you can only go so far with Japanese apps & podcasts).
✔️ Learning 1-1 with a Japanese tutor means YOU get their undivided attention. You can ask all the questions you need to.
✔️ Practicing real communication skills, getting immediate feedback and controlling what you what to learn, when & how quickly.
✔️ And best of all? No audience!
✔️ Your Japanese tutor will help you to create & stick to your learning plan and get the results you want – FAST.
How it works:
👋 Fill in the contact form
📞 Schedule your 20 min consultation call with Vanessa
👩🏻‍🏫 Your Japanese Tutor Connection – meet & start learning!
My Japanese tutor is brilliant, I absolutely love her! She's really easy to get along with, so I feel comfortable chatting in the Japanese language about anything and everything. This has allowed me to maintain and improve my conversational Japanese – one of my learning goals having returned from two years of living in Japan.

She has an instinctive understanding of my level of Japanese, and a real skill of simplifying the complicated, which has been particularly useful when trying to tackle difficult JLPT 2 reading passages. She's also happy to be flexible on a lesson by lesson basis, meaning I can get something out of each lesson regardless of whether I have had time to study that week, or not. I can't recommend private tuition enough.
Read more about what our students say.
Just imagine how you'd feel if you could:
✔️ Stop relying on your Japanese partner to translate everything for you
✔️ Chat & have a laugh with your Japanese friends and colleagues
✔️ Travel around Japan & order your favourite foods confidently!
Japanese Lessons for Children
"I feel like I'm fighting for my children's future!" my friend confided. "It sounds dramatic, but I literally have no idea how to teach my kids Japanese…"
Sound familiar? 🙋 Let me tell you, you are not alone. It's not easy!
Would your child like to have fun & build confidence whilst learning Japanese from a qualified tutor?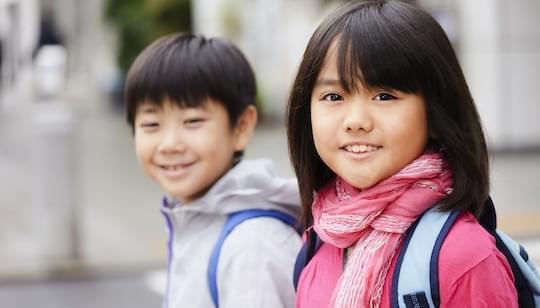 Gus loves the lessons. I think Yasuko is amazing! He is totally engrossed in the way she is making this all about the culture of Japan. Yes please, more Japanese lessons.
I'd love to hear about your child and connect them to a friendly & experienced native speaking Japanese tutor, for 1-1 lessons online or in person.
📞 Click the button to contact me, Vanessa, for a free 20 minute phone consultation. It's good to chat! 👇
Yes, let's chat about a Japanese tutor
Fun & Interesting Japanese for Kids
"Learning needs to be OMOSHIROI!!" – I've never forgotten this deceptively simple piece of advice I got from an experienced Japanese teacher, over 20 years ago.
*Omoishiroi translates as: fun, funny, amusing, interesting. All at the same time!
Well, DUH, I thought – of course it does. BUT HOW?
Since then, I've come to fully understand what she actually meant. That's why, at JapaneseLondon.com, we firmly believe that learning must be PLAYFUL, making it something children WANT TO DO.
Her lessons fill my daughter with joy!  Mother of N, Wimbledon 2019
Immersion is the most effective way to learn a language. But short of upping sticks and moving to Japan, a Japanese tutor here in London can provide an immersive learning experience to help your child:
Build familiarity. Get familiar with real Japanese stuff. Everyday things & concepts. Sushi, anime characters, origami, using chopsticks… anything and everything.
Learn meaningful words and phrases. Let your child learn the words for what matters to them – describing their interests; their own life.
Make conversation. Tell stories. Form a great relationship with their tutor. Improve their communication skills with a trusted adult.
Thanks so much – he has spent a very meaningful time, learning for two years. Lessons not only helped improve my son's language skills, but also showed him the fun of learning.
Japanese Tutors Online
Do you find group Japanese lessons never seem to be quite the right level?
Wasting money booking courses only to 'fall behind' & drop out?
Hate being 'put on the spot' by teachers – in front of the whole class?
I'm a Japanese learner myself, and I totally feel your pain! But before 2020 I honestly never even considered online Japanese private tuition… I totally resisted it.
How things have changed!
Now, having arranged thousands of 1-1 online Japanese lessons UK wide, I firmly believe: Japanese tutoring is one of those rare services which can actually offer remarkable results online.
For example, one of our students, who is really motivated to learn to Japanese (to use at work and on work trips to Japan) had previously been taking lessons before work at 7.30am in the Bank area before heading in to her office. She switched to online, and says:
'I have much more time to study now and the lessons by Skype are working well – we're doing 1 hour lessons.' AW, Japanese Adult Learner, 2021
Yes, I want to learn Japanese now
Click to arrange your 20 minute consultation call 👆 with Vanessa today.
Online video meetings just make learning so much more accessible to both adults and children. Japanese lessons aren't only for those with offices in central London anymore!
In fact, half of all Japanese learners that I connect to a 1-1 Japanese tutor for online lessons are living outside London; in areas all around the UK from Oxford, to Suffolk, to Devon.
'Lisa-Sensei is fantastic, she's engaging and makes notes of everything I mention about my life to quiz me later which I enjoy. Also being a native Osaka-jin she's incorporating a few colloquialisms into my vocabulary which my wife loves. I like how she uses technology to help the lessons and also finds fun activities to do to keep me interested!'
Online Japanese Lessons for Adults – 2023 Fees
Are online private 1-1 Japanese lessons effective?
Absolutely! Learning occurs best when we are relaxed, comfortable and having FUN. Language learning can be surprisingly emotional (even adults feel like a kid again without our native language fluency!).
Group lessons in classrooms are often not the best place to support these feelings of vulnerability. Rapport built with your 1-1 tutor allows for an easy flow of learning, without the stress.
Your tutor will plan your lessons at your exact level, addressing your specific areas of difficulty that might easily get skipped over in other types of classes.
Online lessons naturally put the focus on communication skills, and learners report that they are actually speaking more in their lessons than previously!
'I cannot tell you how fantastic they have been. Kumiko-sensei is just wonderful and her lessons are pitched exactly right. I have enjoyed them so much and my Japanese has improved hugely. Still a long way to go until I'm fluent but I'm feeling so much more confident about communicating when I finally make it to Japan.'
Frequently Asked Questions
What's the time commitment involved in Japanese tuition?

It's up to you – the learner. When can you fit in your regular Japanese lesson? Do you have much time for homework? Or do you prefer to focus on speaking in the lessons themselves? Do you have a 'deadline' coming up (i.e. a JLPT test, a holiday or a business trip?

REGULAR TIMING: Whether meeting online or in person, timing is key when arranging your Japanese lessons. It's important to stick to a regular time every week, to make the learning Japanese habit an enjoyable, non-negotiable commitment of your life.

In order to make a successful connection, your tutor also needs to block off the time in their schedule, and be available to tutor you at the time that works best for you, when you will be relaxed and ready to concentrate. It's a commitment on both sides.

RESCHEDULING & CANCELLATIONS: There is certainly some wiggle room & flexibility for considerate rescheduling (when the lesson time or day needs to change due to a personal or work commitment) but it is absolutely essential to start with a realistic, sustainable slot in your weekly timetable that you can look forward to each week, and so that your tutor can prepare in advance.

Please note, however, that lessons cancelled less that 24 hours in advance (for any reason) are subject to a cancellation fee of 50%. Lessons cancelled less than 3 hours in advance (for any reason) are subject to a cancellation fee of 100%. This fee is to reimburse the Tutor for their lost opportunity of work.

LESSON FREQUENCY: In terms of lesson frequency, most learners take a weekly lesson, some take two weekly lessons, and intensive courses can also be arranged for certain purposes.
LESSON DURATION: For adult lessons that take place in person, there is usually a 90 minute minimum (unless the learner is a child under 12). We find that 60 minutes really flies past when meeting face-to-face, and 90 minutes makes time spent travelling (either yourself or the tutor) to the lesson location worthwhile.

For online lessons, a shorter lesson time of 60 minutes, or 45 minutes is possible (for children under 12 years old, 30 minutes is also available). We find that having the option to schedule shorter lessons online for kids works very well for keeping it fun & maintaining attention spans.

An option that also can work really well for adults' online lessons is to study more often, but for shorter bursts. Some students are breaking their weekly 90 minute lessons into two sessions online. Others are taking 1 hour every day to keep the learning consistent.

'I think the 2 x 45min online sessions a week have been really beneficial for my progress in speaking and listening.'

It's important to go with what's most manageable for your learning style – do you prefer a deeper dive or to jump in more frequently?

HOMEWORK: Also, don't forget to factor in how much time you can set aside to do some homework between lessons, and when you will do it, as regular review (little & often) is so important to speed up your progress. At the moment, I am personally scheduling in just a measly 10-15 minutes of Japanese review per day. But it all adds up!

BLOCK BOOKINGS: To allow the time needed to build a great relationship between tutors and learners, the minimum block booking for adults is 15 hours. For children this is 12 hours. To learn more, please read: This is Why You Need to Book 10 Japanese Lessons (At Least)

Many learners & tutors enjoy a really fruitful learning relationship and continue lessons for many months – or years! It's so rewarding.
Are private 1-1 Japanese lessons expensive?

Cost can be viewed in terms of both time and money. A fast, efficient way to learn, your private 1-1 lessons will be at your level – no more wasting precious lesson time going over things you already know (or missing the point of something too difficult).

Group lessons can appear cheaper than private 1-1 tuition, but work much like gym memberships. It's very easy to miss classes you've already paid for, and then hard to catch up, which can put you off returning. Mottainai! What a waste!

For more discussion around lesson fees, kindly read my article: How Much Do Private Japanese Lessons Cost?

For the price of a decent Japanese meal in a restaurant, every week you can experience so much more than just a full tummy!
Might I find a cheaper tutor elsewhere?

Certainly, this is possible. JapaneseLondon.com is a specialist tutoring connection company run by me, Vanessa Villalobos👋. I am a UK PGCE (Secondary School Level, English, Kings College London) / RSA CELTA (TEFL, Cambridge) qualified teacher.

I spent three years teaching in rural Japan on the JET Programme (Japan Exchange Teaching – a programme created by the Japanese government) & the experience had a profound influence on me. Honestly – it changed my whole life – by opening my mind to new perspectives. In fact, I loved it so much that I couldn't leave it behind!

When I came back to England I was driven to begin my connection company, in order to share the of learning Japanese language & discovering Japanese culture with others. I have connected many hundreds of learners (it's getting towards a thousand!👍) with tutors since starting my tutoring connection company back in 2008.

This personalised service is quite different to the many generic 'find a tutor' type websites which have sprung up, where the onus is on the student (or student's parent) to do all the work to secure the right tutor.

The tutors on the 'find a tutor' type websites are not vetted or pre-qualified in any way – it's up to you to do that. You need to choose, get in touch individually and assess the tutor's suitability.

Naturally, this process is particularly important when choosing a tutor for a child. If this sounds tiring – please, leave it to me. I'll send the full tutor profile for you to check & approve before lessons are arranged.
What do I need to get for my Japanese lessons?

Your tutor / your child's tutor might request you to purchase a textbook or other study resources for your lessons. But you don't need to get anything before lessons start except a notebook & pen!

If you can't wait to get started, I'd recommend reading 'Amy's Guide to Best Behaviour in Japan: Do It Right & Be Polite!'- a recent, handy, and non-stuffy guide to etiquette. I SO wish this book had been in print when I first went to Japan & committed countless cultural gaffes! haha
Where do private Japanese lessons take place?

Lesson location completely your choice (although we are happy to suggest a variety of tried & tested places all around London that we have found to work out well for lessons). Tutors can come to your home, office, or meet you in a quiet café or hotel lobby, or in another public space around London (such as the open areas in the Southbank Centre or the Barbican).

Many of our lessons are being delivered online via Zoom or other platform. Of course, online lessons do not incur a travel fee.

In 2023, students and tutors may choose to meet in person again, or choose a hybrid combination of in person & online lessons (i.e. meeting in person once a month, or every other week).
Are the Japanese lessons 1-1?

Yes, all lessons are between you and the tutor only. The one exception is complete beginner level students only, who may opt for 2-1 lessons with their own, selected partner (i.e. husband and wife, business partner, friend), for a top up fee of 30%.
What platform will we use for the online lessons?

It's your choice! Some tutors prefer Skype, as it offers the chat function that can be saved to refer back to. Zoom chats aren't saved, so it can be a great idea to use Whatsapp alongside it.

Personally, I really like the way that this use of technology gives me a typed reference of Japanese phrases and vocabulary from the lesson (that I can use to review).
What is the content of private lessons?

The lesson content is tailor-made for your own goals – whether this is business speaking skills, survival Japanese for a holiday, or to pass a Japanese exam such as the JLPT.

Some people learn Japanese just for an enriching hobby, whereas others have commitments to keep up with their university course, group classes or to increase their fluency to an advanced level.

Whatever your own goals may be, the tutor will likely use a Japanese textbook picked for you as a springboard.

Students often find it works well to use lesson time to focus on speaking and listening with your tutor, and then focus on reading and writing as self-study (homework).

The Japanese writing systems of hiragana, katakana and kanji can be introduced in lessons, but learners need to take their own time to review & repeat, in order to memorise them.
What results can I expect from Japanese lessons?

Somewhat surprisingly, beginner level Japanese can be quite quick and pain free to learn, giving a great sense of achievement that boosts confidence!

As each learner is unique, their results will vary, according to their needs, interests and goals. We will assess what each individual is looking to get out of their learning, and tailor lessons accordingly.

Most beginners will want to build vocabulary and communicative phrases, and enjoy learning to write the kana (phonetic alphabet).

For many, the results of Japanese lessons could be described as planting a seed to nurture a lifelong love of Japanese language and culture.
Are private 1-1 Japanese lessons effective?

All of our tutors are qualified, experienced, native Japanese speakers who can safely & enjoyably tutor adults & children.

It's really important that lessons are 'omoshiroi' (fun & interesting) – it's proven that we all learn more through play.

Something to note is that our Japanese tutors reside in the UK and can speak English. This can be particularly important when tutoring beginners, or to explain tricky grammar points.

Having more than 20 years experience in teaching, I am always personally available to support tutors with materials and ideas, whenever they may need it.
Are the tutors native speakers of Japanese?

Yes, your tutor will be a friendly, native Japanese speaker, personally matched by Vanessa to your situation & requests.

As they live in the UK, our Japanese tutors can also speak English.
Where are JapaneseLondon.com's tutors based?

Our Japanese Tutors are UK-based native speakers of Japanese.

As they live in the UK, our Japanese tutors can also speak English, which is especially helpful for beginners, and for explaining specific grammatical points.

With tutors based in the UK, we also avoid the scheduling difficulties that occur when working with another time zone.

UK-based Japanese tutors are of course familiar with UK culture & customs, which makes for very interesting and lively discussions regarding the similarities and differences between the UK & Japan!
How do you match learners to tutors?

We carefully consider: time of day & day of the week, the learner's goals & interests, the tutor's qualifications & experience, the lesson location, and – importantly – your unique personalities too!

Private 1-1 Japanese lessons create a fun, goal-orientated & sustainable learning-based relationship for both the student and the tutor.
Which is better for me? Group lessons or a private Japanese tutor?

It depends on your goals and lifestyle. There are benefits to each style of learning, and in fact, many of our students take group lessons and have a private Japanese tutor too.

One of the main benefits of private tuition is that you can learn to speak Japanese by speaking Japanese with a Japanese person. This is deceptively simple, and undoubtedly the most effective way.

It can can be fun to meet fellow learners in a group lesson, but it can also be hard to get your individual questions answered – the teacher needs to think about the needs of the whole class, not just yours.

'I've wanted to learn Japanese since childhood. I did a term of lessons with (reputable uni) but to be honest I didn't find them very helpful, I think it is because of the large class size.'
Is learning Japanese difficult?

Japanese is perceived as being one of the world's most difficult languages to learn. Of course, it is certainly a challenge to learn any language, and for English speakers, learning a different writing script can be daunting.

However, even beginner level Japanese can be extremely satisfying, and the language does not feature tonal pronunciation, like Chinese, for example.

To learn more, please do check out: Three Suprisingly Easy Things About Learning Japanese
Is it worth learning Japanese for a holiday?

YES. Please do. Even just a smattering of key Japanese phrases is a very good idea for a trip, after all, Japan is a monolingual country – like the UK.

Not only will learning survival Japanese enrich your connection to people you meet on your holiday, getting more familiar with the culture is a gift to yourself to enjoy all your life! I speak from experience – as learning Japanese changed my life – learn about my journey here.

To find out more, read: Do I Have Time to Learn Japanese (Before My Trip)? 3 Questions to Ask Yourself

With so many visitors heading to Japan after the travel standstill over the past few years. There's never been a better time to really get prepared properly for your long-awaited trip to Japan.
Are your tutors suitable for complete beginners?

Yes, lots of learners start lessons without knowing any Japanese at all.

As Japanese language and culture is particularly fascinating for fans of manga & anime, we find many children begging their parents to learn Japanese (especially after / before an inspiring trip to Japan!).
Are your tutors suitable for more advanced students?

Yes, as all our tutors are native Japanese speakers, they can teach more advanced learners who have been living in Japan, who have learned Japanese at school, or from a Japanese descent parent, for example.
To get started with booking Japanese lessons for you, or for your child:
👋 Fill in the contact form
📞 Schedule your 20 min consultation call with Vanessa
👩🏻‍🏫 Your Japanese Tutor Connection – meet & start learning!