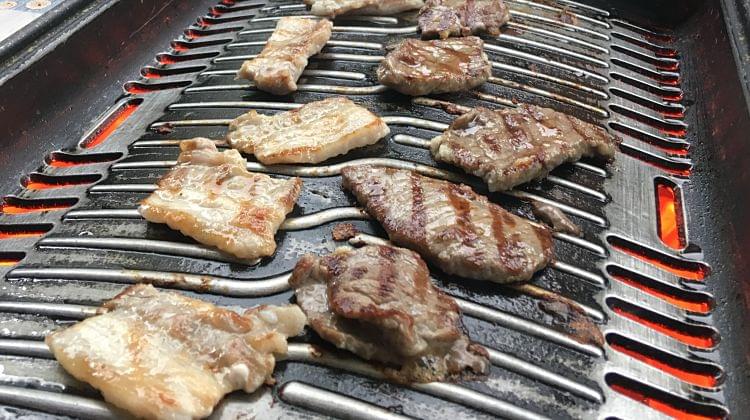 Anything like us, and love just about everything Japanese? You can't help have noticed that exports from their closest neighbour, South Korea, are slowly but surely gaining ground over here in London. And, of course, the 2018 Winter Olympics mean all eyes have been on the sporting events taking place in Pyeongchang, South Korea.
We can't resist comparing and contrasting some of the aspects of Japanese and South Korean culture which are currently most popular in London. Let's enjoy them both! *And just don't mention those pesky islands.
Japanese & Korean Cuisine
Japan and Korea share a love for grilling your own meat at the table, a satisfying and sociable experience, now available to try right here in London. We visited Superstar BBQ at Tottenham Court Road, a Korean restaurant (just down the road from Kintan Japanese BBQ in Holborn – read our review of Kintan here). Freezing passers-by outside the St Giles location enviously eyed the beef sirloin slices sizzling on our personal table BBQ. Served wrapped in lettuce leaves with spicy sauce and spring onions, this was a perfect winter treat. Also highly recommended is the spicy fried squid with the right amount of crunch, and the Korean fried chicken 'KFC', which really stole the show, the sweet chilli coming entirely coated in a bright, spicy sauce.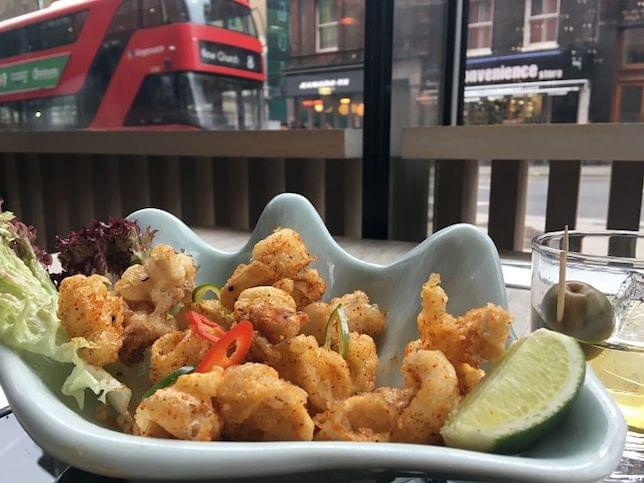 Like Japanese food, Korean food is based on rice as a staple. Indeed, 'Biminbap' is known as Korea's national dish: steamed rice, sautéed vegetables and a fried egg, all mixed up together in one bowl. Biminbap is also the name of a small chain of restaurants in Soho and Charlotte St. There are also 'Biminbap To Go' locations in Leadenhall Market, Cannon St, Bank, and Oxford Street.
New Malden, in Surrey (close to Wimbledon) boasts one of the largest South Korean ex-pat communities in Europe, and there are many Korean restaurants, offering excellent value and authenticity. You'll be give a pair of the stainless steel chopsticks favoured in Korea (rather than wooden or plastic). The massive 'Korea Foods' supermarket is an interesting shopping experience, offering a wide range of fresh and unusual ingredients from Korea, Japan and China.
Pop Music
Interestingly, most J-pop ensembles we are most familiar with do sometimes seem overwhelmingly female. That's cool, but there's only so many saucy maid outfits a girl can take. Instead, for an eclectic selection of genre-defying Japanese 'kick-arse music', a good place to start is with cool UK-based JPU Records.
After the success of Gangnam Style, comes K-pop, hot on the heels of J-pop. BTS sounds like a complaint you might suffer after eating too much spicy food, but actually it's a South Korean boyband taking the world by storm. Highly visually appealing, these colourful, coiffured boys attract masses of fans known as the BTS Army.
There's currently a Radio 1 documentary available on iPlayer about BTS: 'K-pop: Korea's Secret Weapon?'.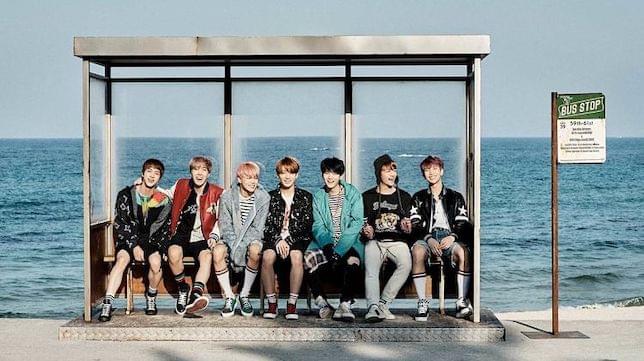 Karaoke in London
Ok, so we all know that karaoke is a Japanese abbreviated compound word: "kara" comes from "karappo" meaning empty, and "oke" is the abbreviation of "okesutura," or orchestra. However, it's popular with people around the world, and Koreans are major fans.
Learning the lingo? If you want try Korean karaoke, Jihwaja is located in Vauxhall, and along with a bar, and Korean foods, offers karaoke at £30 per hour for up to 12 people.
Or, if you prefer to sing J-pop hits, not K-pop hits, read our guide 'London Karaoke Insider's Guide'.
Japanese & Korean Cultural Centres in London
The Korean Cultural Centre was opened on the Strand in 2012, and hosts many excellent events to promote Korean culture, such as film screenings, art exhibitions and concerts.
Whilst Japanese culture has many staunch & tireless advocates in the UK, (The Japan Society, The Japan Foundation, Daiwa Anglo Japanese Foundation, etc.) until now, no 'cultural centre' location, or hub, as such. Fear not, a fascinating new venture called Japan House is opening soon in South Kensington!
Film Festivals
Many film festivals in London take place in the autumn months, and the Korean film festival is no exception; the 12th annual Korean Film Festival was held in October & November 2017.
Don't fret, however, as fans of East Asian cinema can catch the Japan Foundation's touring film festival which is on, UK-wide, over February and March 2018.