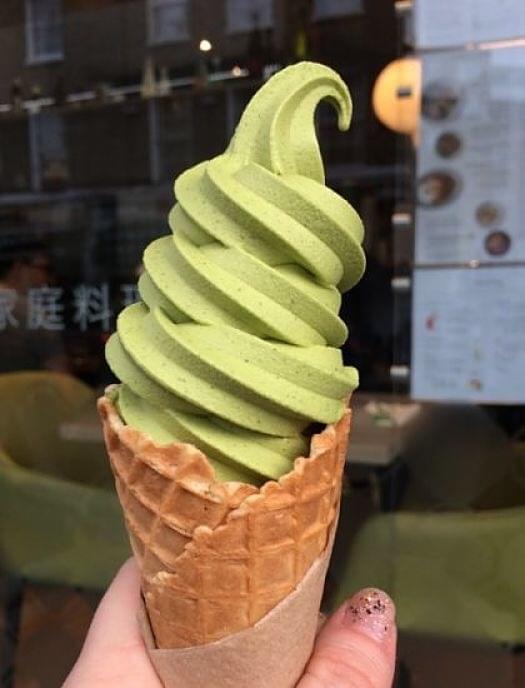 Ahh… natsukashiiii… those summer days in Japan when I used to eat my weight in Matcha Haagen Dazs from the 7-11 convenience store around the corner!
A drippy, whippy ice cream on a summer's day brings out the gleeful, sticky-chinned child in everyone.  But choosing matcha (very strong, powdered green tea) flavour does feel that little bit more grown-up and sophisticated. Ahem.
Massively popular in Japan, matcha flavoured ice cream has been hard to find in London in the past. Not any more…
1. Tsujiri – the Classic Matcha Ice Cream Experts
Tsujiri, 47 Rupert Street, London W1D 7PD https://tsujiri-global.com
Although the Japanese firm Tsujiri has been an expert in Matcha Green Tea for 155 years (sourced from Uji), they have only recently opened a branch in Soho. With the incredible variety of intensely green sweet treats Instagram is already all aglow with this new speciality ice-cream parlour.
Tsujiri in London serves perfectly bitter matcha soft serve, for that satisfyingly powerful hit! Also, creations with a variety of Japanese-inspired toppings, such as mochi balls or slices of matcha cake. The photos alone are enough to be encouraging queues at the door! Visit Tsujiri's Instagram here.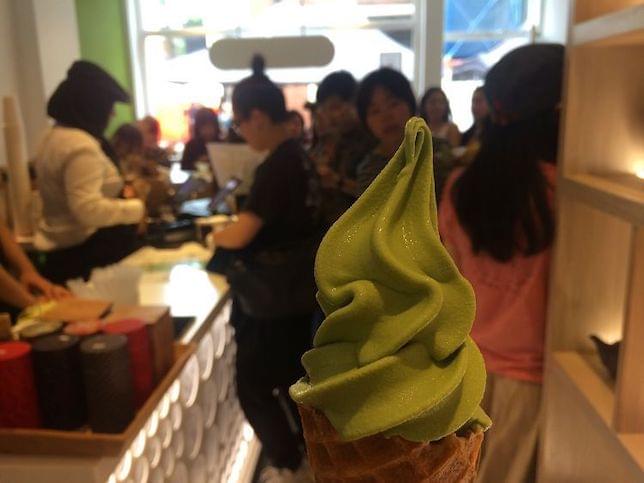 2. Tombo – London's first authentic Japanese Café & Matcha Bar
Tombo, 29 Thurloe Place, London SW7 2HQ https://www.tombocafe.com
This South Kensington favourite offers lots of clean eating options, so you can feel really virtuous before indulging in one of their matcha desserts.
You can choose from simple matcha soft serve in a cone, to matcha sundaes, to a matcha tiramisu.
Tombo is really popular, rather narrow, and they don't take reservations.
Top tip: Right across the road is the old favourite, Kulu Kulu sushi. Being a conveyor-belt sushi place, the turnover is fast… just check their opening hours.
3. Bake – Taiyaki Cones Baked Onsite & Filled with Matcha Soft Serve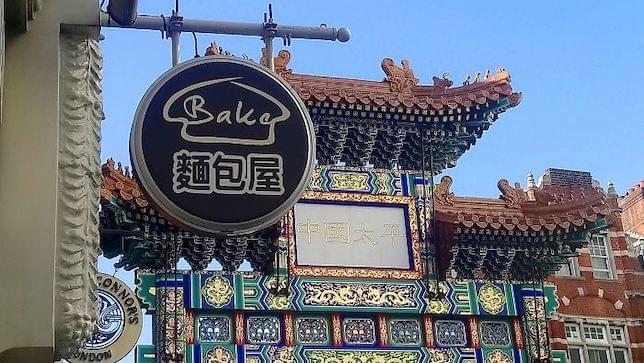 Bake Pan-Asian Bakery 9 Wardour St, London W1D 6PF https://www.facebook.com/pages/Bake-麵包屋/208049219544860
This place is a pretty exciting find for those who love Asian baked goods! They manage to get it just right with treats inspired by those popular in Malaysia, China, Japan, and Korea!
The sweet smell of freshly baked taiyaki and the cool taiyaki-making machine in the window is a big draw.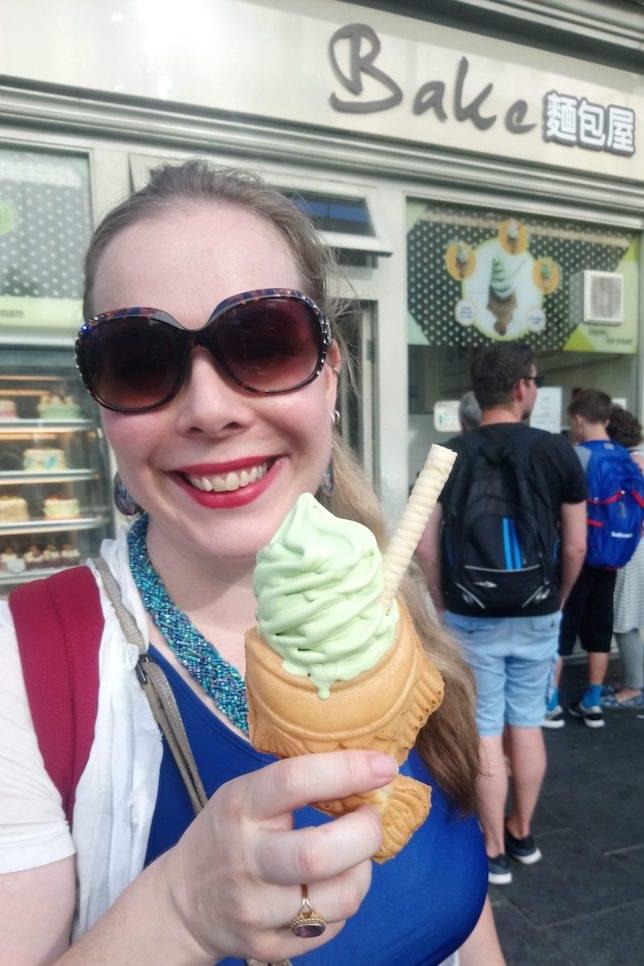 Possibly the most 'insta-bae' item is their spin on the ever-popular Japanese snack 'Taiyaki' – the fish shaped baked cone is topped with matcha ice cream.
Gorgeous little taiyaki baked fish sweets are also available.
4. Machiya – Compact Japanese Restaurant with Great Desserts
Machiya, 5 Panton Street Soho London SW1Y 4DL https://www.machi-ya.co.uk
This cosy Japanese restaurant is handily just off Leicester Square, and is proving really popular. They offer a range of delicious dishes but what we are concerned about is the soft serve. Available not only in matcha green tea flavour, their soft serve also comes in black sesame! Impossible to decide? You can get a mix. Phew!
*I didn't get a photo of the soft serve but below is the Matcha Fondant dessert and it was AAAMAAZING.
Read JapaneseLondon.com's review of Machiya other foodie delights here.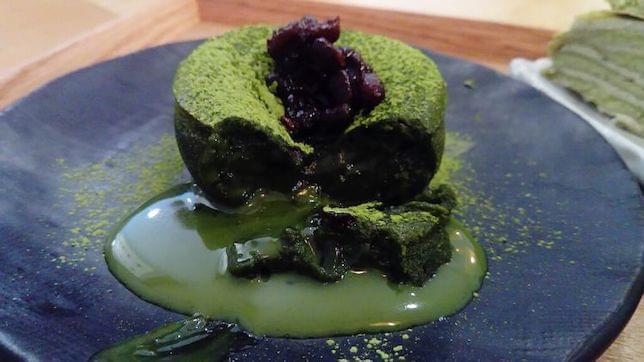 5. Soft Serve Society – Ridiculously Instagrammable desserts
Boxpark Shoreditch, 2-10 Bethnal Green Road, London E1 6GY  https://www.boxpark.co.uk/shoreditch/food-and-drink/soft-serve-society/
Lavishly extravagant toppings are the regular here, oversize marshmellows, honeycomb, candy floss clouds and Pocky sticks are available to adorn your matcha creations!
Soft Serve Society also offer 'freak-shakes', bubble teas and sundaes. Founded by friends Emma & Nikki, Soft Serve Society also offer black ice-cream cones which provide an awesome contrast to the green ice-cream!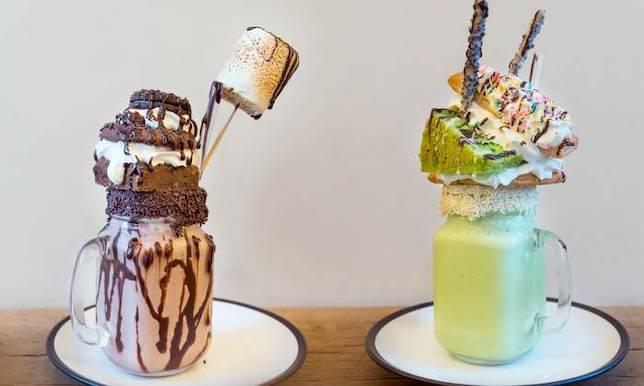 6. Little Moons – Matcha Green Tea Mochi Ice Creams
Not going out? Perfect for dinner party desserts or stuffing in your face in the park alike, the elegant and versatile 'Little Moons' mochi ice creams are a classic. I love the delicious hit in a small size (love when trying to diet – the mochi gives a chewiness that lasts a little longer).
They are fiendishly addictive – Ocado, The Japan Centre and Wholefoods can keep you supplied. They are also available in Toasted Sesame flavour; also Mango, Coconut, Vanilla etc. Some locations have pick-a-mix selection (Stoke Newington definitely does, and I spotted one in the Japan Centre at Stratford Westfield last weekend). Although – when matcha's an option, why would you go for anything else?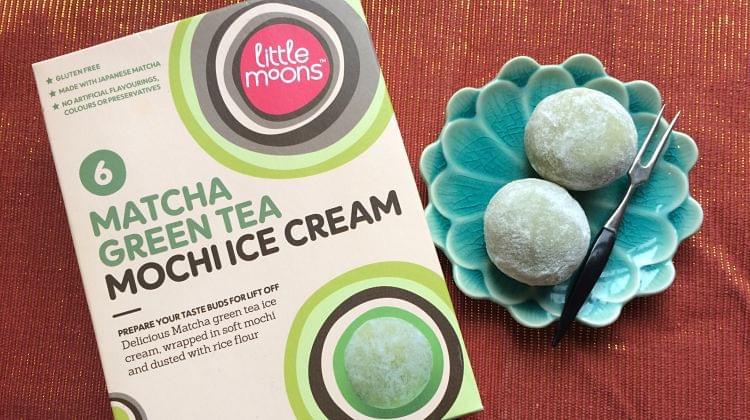 Right, I'm off to search for more melting matcha moments in London!  If you have any top tips on where else to encounter matcha or green tea ice cream in London, please do let me know.
If you liked this article, we recommend reading:
Learning Japanese language? Did you know JapaneseLondon.com connects learners with wonderful 1-1 native-speaking Japanese tutors, right here in London? Learn more here.